It was interesting to see that the band in "The Voice" – BBC's talent show – now use digital music display when performing live.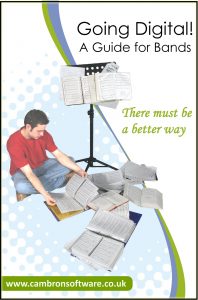 Like "The Voice" band,  increasing number of bands, groups and ensembles with 2 – 10 musicians and singers are looking at ways of moving from paper based music to digital music display.  Many of the enquiries we get here at Cambron are from church worship bands, but "Going Digital" is something all bands that play from paper music are considering. We have had enquiries from cruise ship bands, wedding bands, backing bands, cabaret bands, tribute groups as well as classical string quartets and wind ensembles to name but a few.
This article is designed to help you decide on the best setup for your band or group to make the move from paper to digital.
Continue reading "The big question a band needs to ask before deciding to "Go Digital"" →