---
Update 11th Feb 10:00 GMT: the update to Power Music App should now be available.
Note 7th Feb 18:00 GMT: unfortunately the update to Power Music Reader was released early before the Power Music App update was approved by Apple. Please keep checking and we will update as soon as the updated Power Music App becomes available.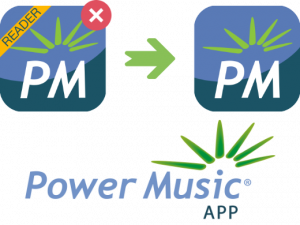 If you are a user of Power Music Reader you may have seen the notice that the app is now discontinued, and we are asking all users to move over to Power Music App, which is now free to download.
So what does this mean for existing and new users of Power Music on iPad and iPhone? Read more...