The big question a band needs to ask before deciding to "Go Digital"
It was interesting to see that the band in "The Voice" – BBC's talent show – now use digital music display when performing live.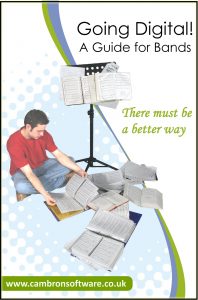 Like "The Voice" band,  increasing number of bands, groups and ensembles with 2 – 10 musicians and singers are looking at ways of moving from paper based music to digital music display.  Many of the enquiries we get here at Cambron are from church worship bands, but "Going Digital" is something all bands that play from paper music are considering. We have had enquiries from cruise ship bands, wedding bands, backing bands, cabaret bands, tribute groups as well as classical string quartets and wind ensembles to name but a few.
This article is designed to help you decide on the best setup for your band or group to make the move from paper to digital.
THE BIG QUESTION
Do all musicians in the band play from the same music?
Answer 1 – "YES": Every member of the band plays from the same music.
The solution would be to use cloned displays, that is, every screen displays the same music.  A single computer runs Power Music and all the monitors are linked to this PC using either VGA or HDMI cables or wireless HDMI. If cables are used then a VGA or HDMI splitter would be required.  Song selection and page turning would be controlled by one member of the band.
Answer 2 – "NO": Each musician in the band wants to see their own music for their own instrument.
The solution here would be for each musician to have their own device running Power Music.  For example iPads or a Windows tablets.  The devices can be any mix of Windows tablets or laptops, iPads or Macs running Power Music.  Each musician would be responsible for song selection and page turning.
All the music for the band could be centrally stored in Power Music Box – Cambron's secure, cloud storage system. Each band member can log into the Box and download to their iPad, tablet or laptop the playlist and any music required for the performance, if they don't already have it on their device. If all the musicians were using Windows tablets running Power Music Professional then the Parts feature could be used to manage the different instrument parts for the band.
All music is stored locally in the devices running Power Music and no internet connection is required for performing. 
Answer 3 – "YES and NO": Some of the musicians use the same music and some use different music.
This is a common situation in a church worship band.  Guitarists want chord sheets and keyboard and wind instrument players want to see a score.
The solution here would be to have 2 (or more)  display systems (PCs), each with cloned displays – for example, one PC for the musicians using sheet music and one for displaying the chord sheets.  Again the library of music could be stored in Power Music Box and downloaded to either of the PCs as required. Page turning would be controlled by one musician from each group.
This just scratches the surface of the planning needed for a band to "Go Digital".  To help you make a decision, I have written a details booklet giving advice about this.
You can download the booklet in PDF format Going Digital (v3.0).