Viewpark Parish Church Worship Band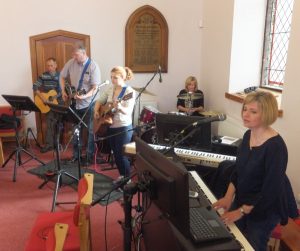 Several years ago Shona and some other member of her church in Viewpark attended the Mission Worship conference in Eastbourne, where we were exhibiting. They came to our stand and watched Power Music being demonstrated.
As most churches do – they thought about it for quite a long time! Then in November 2013 they took the plunge and invested in a complete band setup – monitors, stands, computer and Power Music.
Shona's Power Music Story
We've been using Power Music for some time now and it has completely changed the way we 'do music' at church.

We take our equipment wherever we play, whether it's the whole band or just one or two of us – we wouldn't go anywhere without it. It's been so very easy to use too, scanning in the music, creating playlists, transposing keys and adding capos for the guitars. The screens are so big and clear, one of the guitarists said that he struggled sometimes with the size of the (paper) sheet music and he found it so much better.

Now that our library is quite large, it's easy to pick out a song when the spirit moves over us. Using Power Music allows a special freedom and relieves us from any trivial worries such as turning pages, looking up books, working out and changing keys. Instead it allows the musician to become a true worshipper. The focus now is the one we always want to focus on, Jesus.

There has been a significant change in the presence of God at our worship services, so much so that the numbers attending have increased as people talk about this experience. We are all so blessed by having the Power Music there, you've done an amazing thing!

– Shona Lyall, Worship Leader
Viewpark Parish Church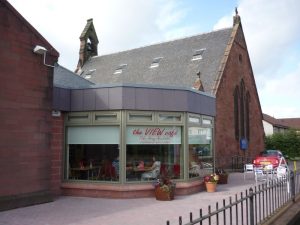 Viewpark Parish Church in Uddingston, Glasgow, traces its history back to the various mission stations that were formed in the area in the latter part of the nineteenth century when mission to the mining communities was seen as a major priority by the established churches around the area.
In 2007/8 following damage to the original 1893 roof, the Sanctuary was repaired and refurbished and in 2011/12 the link between the Sanctuary and the Large Hall was demolished and the area infilled with new accommodation, including the View Café.
Michael Lyall the current minister says
Viewpark Parish Church is here to be faithful to God and to serve Him in our community.
Visit the church website here: www.viewparkparishchurch.org.uk