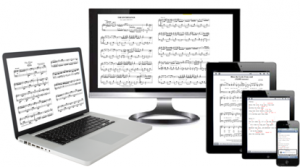 With an increasing number of music display apps coming onto the market, we thought it was time to talk about why our users think Power Music is great! All the points below are taken from comments we have received from our users over the years by email, phone and face-to-face at exhibitions.
We always welcome feedback about Power Music so feel free to send us your comments and suggestions, especially ones like this recent comment from Jeroen Jacobs – a German pianist…
Your software is best in the world. I have not seen better, more stable, more versatile, more easy to use software. It's just great. Never need anything else.
I use it together with a Microsoft Surface Pro.
It's super stable.