Interview with Jim Diack – Worship leader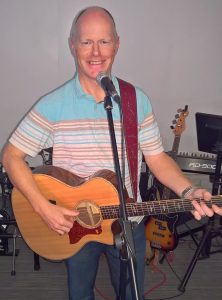 For the last 6 years, East Mains Baptist Church in East Kilbride has been using Power Music with their worship band at every service.
We asked the worship leader at East Mains – Jim Diack – for an interview about his experiences with using Power Music over the years.
We hope you find a "real world" user's comments helpful.
Here's the interview…
Q. Tell us about yourself, your background and your role in the band.
I am Jim Diack and I am the worship leader here at EMBC. I help to organise the guys in the worship team. I play guitar, sing a wee bit and play bass. I have done this since I was about 20 so that's over 30 years.
Q. How did you find out about Power Music?
A chap came to our church one day – Gordon Smith – and he told us his church had used this thing called Power Music. At the time I was struggling with 3 or 4 songs getting played together. I had music for the songs and it was falling off the music stand. I was trying to work out a good way to do this, so we got a demo from Cambron who showed us what Power Music could do.
Q. When and why did you start using Power Music?
Five or six years ago at least. When I saw it working I thought that would be fantastic. We looked at some big worship teams and they can play from memory. They don't need screens but we just cannot do that. I respect Gordon Smith and he told me they used it in his last church and he loved it. In the Baptist Church everything has to go to a committee, so we put together a proposal – it wasn't too expensive – we had to get a PC, wiring and screens. When you consider the amount of time and money we have saved in photocopying and paper it must have balanced out by now.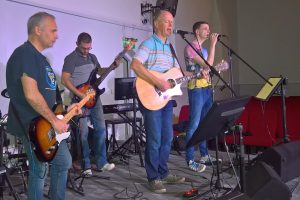 Q. What was your setup when you started using it?
We had 4 screens (24 inch), a small PC, the required cables to set it up and a USB pedal.
Q. Was there any resistance from other band members?
Not particularly. I can't remember anyone actually saying they did not like it. Not all of them use all the features – we could probably do with sitting down with the team and asking "how do we really develop some of this?" I often watch Cambron's YouTube videos on different features – I looked at one recently on how to do a little "post-it" note. I am sure we could use it much more – It's finding time! So – no, there was no resistance.
Q. Has your setup changed over the years?
We have done a wee bit of tweaking, now we use 3 screens – we can manage with 3 and it's aesthetically better. Sometimes we have 8 people on stage. The drummer does not need a screen – he just plays along with the musicians (better watch what I say!), the keyboard player has a screen which the bass player looks at it and there are 2 screen at the front. Three people can see one screen. Because they are nice and big we don't need one screen per person in the band and we can sit them further away to help visibility.
We run Alpha courses and next Saturday we are doing an Alpha away day. We take a laptop and 2 screens for a smaller band. It's not ideal to move equipment like that, but it's easier than getting together the paper. I use a splitter on my laptop to drive 2 screens. It's very versatile and it saves thinking about what we are playing – we have hundreds of songs in Power Music and we can organise it very quickly.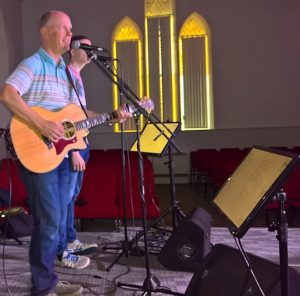 Q. How long did it take to adjust from paper to digital?
It was fairly instant. We had (paper) backups at the beginning – two big folders with 6 copies of each song – but now we don't require that at all.
Q. Has it ever let you down?
No. In the 5 – 6 years it has never not worked. I cannot remember it ever letting us down. I do remember one "hairy" event. One Sunday at about 10 o'clock I switched on the PC and there was a little window saying "update required". I think I went to hit "no" and hit "Yes" instead! It started to install Windows 10 Update(gasp) just before the service was due to start. We were all praying – "please finish this and come back up" cause you can't do anything once Windows has started doing an update. It did restart a few minutes before the start of the service! I just remember it saying 1%, 2%, 3% – Oh no!! But we got through it. Good tip – plan when to do updates.
Q. What advantages have you found in using PM over paper?
The good thing is that you can link songs very smoothly. All the screens change at the same time. When I think back to when I used paper. I was looking at that sheet of paper then this sheet. Nobody else knew what I was looking at or thinking about. Now I just bring it up on the screen and for example, the keyboard player knows immediately he is introducing it. Before Power Music I needed to turn round and send a message to the keyboard player – now the flow of worship is much better.
It's so flexible, things like changing keys. Quite often when one of the girls leads worship they choose different keys to sing in. So that's a big plus being able to transpose chord sheets.
Having a big database of songs is good – everything is at your fingertips. If the speaker says they really want to sing "Light of the world" at the end we can bring up "Light of the world" in 4 or 5 seconds and just play it – saves any hassle.
Q. Talk us through a typical week leading up to the Sunday services (preparation, rehearsal etc)
We practice on a Monday night, so we have a list of practice songs we work through. Whoever is leading will have Power Music on their home PC or laptop (I think 7 – 8 people have a licence for PM) and they use "the Box" which is particularly good. I think the Box is excellent. If I decide to use a new song I can just upload it (from home) and it's there to download in the church using the WiFi. The songs are just there – I don't need to think about it. I use the "copy playlist to clipboard" and drop it into an email and sent to the band and they make sure they are comfortable with the songs before they turn up.
Q. Do you have any hints and tips for other bands starting on this journey?
Invest yourself in it and see all the features – I have it on my own laptop and that makes me more comfortable when I am using it in the church. Having several people comfortable to use it is good. So playing about with it away from the church is good.

I also have it on my iPhone and iPad. The iPad is good for maybe just playing yourself or even when making up a playlist, which I can also do on my phone.

The only issue we have is the foot pedal sometimes plays up I think some people stand on it. We are now getting good at repairing them! The USB cable gets broken. We might look at the Butterfly in future – my next purchase
East Mains Baptist Church web site is: http://eastmainsbc.com/
If you would like to ask any questions or contribute your own experiences, please add your comments below.
Save
Save
Save