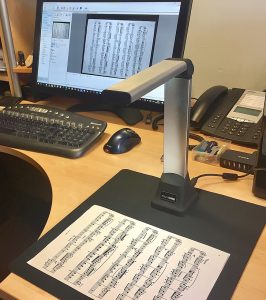 Article Updated February 2018
Recently Cambron launched a new USB portable document scanner called the MusicOne scanner. This short article (based on a previous blog post) gives users of this and similar scanners some hints and tips on getting the best results in Power Music.
Camera technology has come on leaps and bounds over the last few years and the results you can achieve from this scanner are quite amazing. The MusicOne scanner can be used with the built-in software in Power Music Professional or simply as a stand-alone scanner using either the free software that comes with the scanner or the supplied TWAIN driver along with your favourite image editing software. I will cover all this in the blog.