Including guest contribution from Don Dickson
Going Green
Here at Power Music we like to do our bit to help save the planet. The new MusicOne 12-Pro uses a refurbished Microsoft Surface Pro 5. These have powerful 7th Gen i5 processors, 8GB RAM and a 128 or 256GB SSD. With the disposal of waste computer devices becoming a major problem we are using these Microsoft officially refurbished devices in an attempt to help reduce waste. They have many years of life left in them and are easily powerful enough to run Power Music Professional and store 10s of thousands of pages of music.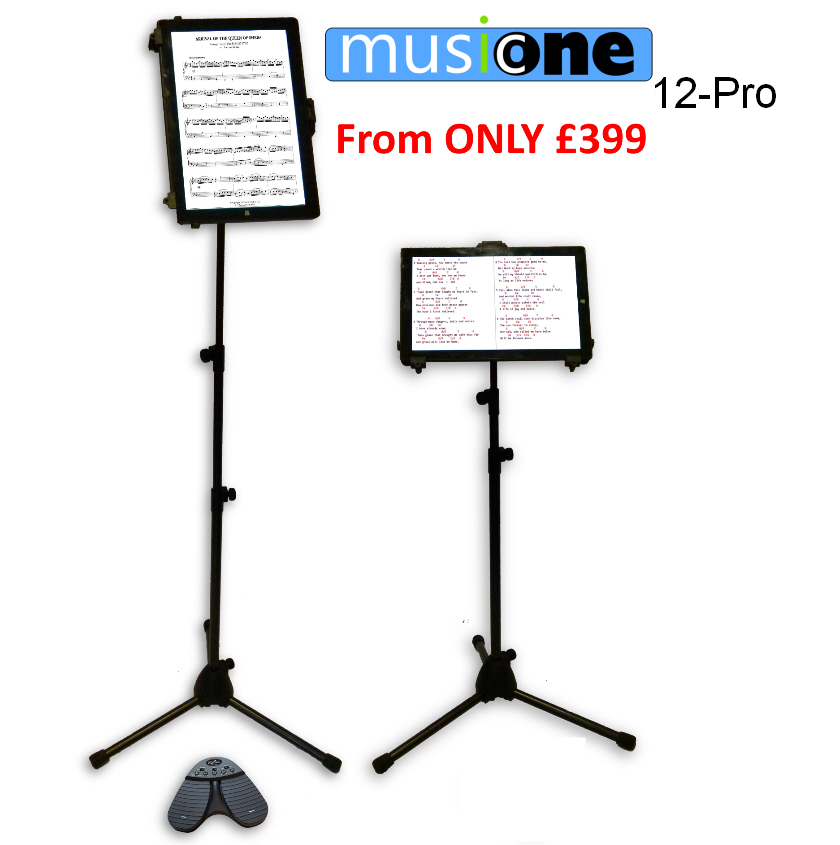 One of our happy customers for the MusicOne 12-Pro is Don Dickson – a long time user of Power Music. Don send us an email about his experience with the MusicOne 12-Pro and he is happy to share it with you.
Read Don's comments…
Just a note to say the Music One 12-Pro with the recon MS Surface arrived and is up and running right out of the box! I thought I would share the thought process behind the acquisition as probably others may be going through the same process.
I have been using Power Music for quite a long time now on Windows, iPad and MacBook Pro.
The problem for me was my aging iPad that I use in my 'journey man' role of playing in multiple bands and venues.
My iPad is stuck on iPad OS10 with Apple's EOL policy and whilst PM continues to work, the iPad itself is beginning to stutter and an iPad like for like replacement is eye-wateringly expensive.
On it's plus side I have an iPad stand mount and Pageflip foot-switch. On the downside the iPad app is less flexible than the Windows App though using the My Box facility it has been simple to keep the song databases in synch.
As for Windows I use the app on a touch screen laptop in a church setting, but the laptop is less venue friendly when journeyman gigging. One positive of the Windows devices was the USB port that accommodates my USB foot pedal.
So I sat on the fence for months until Power Music came up with the Music One 12-Pro with the recon MS Surface. Now I have a truly portable Windows 'tablet', touch screen and I use an existing music stand. I put a micro SD card in the expansion slot to increase my storage and fitted a Surface series combo adapter giving 3 high speed USB ports and an HDMI port for use when not gigging.
I can continue to use my Pageflip pedal, and the USB allows me to continue using my favourite cable pedal.

All in all a win/win for Music One 12-Pro v my aging iPad
Great Job Power Music!

Don Dickson
Don is the Worship Leader at St Margaret's Church Edgware, North London. He is co-leader of the Praise Band "Streetlights" based in Chesham Buckinghamshire, where he also worships at Christ Church Waterside, Chesham. Don is also a music ambassador for Buckinghamshire Mind, where as a volunteer he provides regular mini song/singing events for the Chesham based satellite.
Don started singing and playing guitar in a band when he was 15 and has gigged in bands, and as a solo performer, in rock/pop/folk and Christian Praise and Worship genres. Don is now in his 76th year and still leading worship.
Don uses Power Music as his go-to app on Windows and Mac devices. He has over 1600 titles in his Power Music library. The ability of Power Music to import titles from such a wide variety of online resources makes it an invaluable tool.
When I am performing at Bucks Mind and one of the service users request a song not in my library, a quick download from an online subscription service and import into Power Music is all it takes to bring a smile of pleasure to the person making the request.
Power Music is even on my iPhone so I never leave home without it!
Thanks to Don for his comments and if you have any questions about the MusicOne 12-Pro or any other products form Power Music please feel free to contact us either by phone on 01355 246832 or by email to [email protected]