Going freemium with Power Music App – discontinuing Power Music Reader
---
Update 11th Feb 10:00 GMT: the update to Power Music App should now be available.
Note 7th Feb 18:00 GMT: unfortunately the update to Power Music Reader was released early before the Power Music App update was approved by Apple. Please keep checking and we will update as soon as the updated Power Music App becomes available.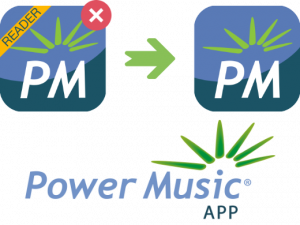 If you are a user of Power Music Reader you may have seen the notice that the app is now discontinued, and we are asking all users to move over to Power Music App, which is now free to download.
So what does this mean for existing and new users of Power Music on iPad and iPhone?
What we've done and why
In 2012 we launched Power Music Reader (then just called Power Music) as a free way of displaying music on an iPhone or iPad. The app was launched in conjunction with Power Music Box, allowing our existing users of Power Music 4 on Windows to transfer their songs to their iPad for performance on the go. At the time, there was no way of adding music to the app other than through Power Music Box, but our users asked us for a way to use the app on its own, instead of having to rely on Power Music 4 (and subsequently Power Music Professional) in order to display their music on their iPad. So, in 2014 we announced Power Music App – a standalone app that allows you to add and edit songs on your iPad.
For over 5 years now we have maintained two apps – one free and one paid – keeping both up to date with new features and bug fixes. Behind the scenes, both apps are build from the same source code. We have a single Xcode project with two targets that build the two apps. This is great for fixing bugs or introducing new features. Otherwise, the same code would have to be written twice for two apps. However, it means a lot of conditional code – code that checks which app we are building and disables features or hides buttons that should only be available in one app or the other.
Keeping two apps also means double the work in preparing updates. There are two App Store listings to maintain; we have to go through App Review twice for every bug fix; and we have to explain to users the difference between the two. From a business point of view it's difficult to get users of Power Music Reader to buy Power Music App when there's no quick path to upgrade.
So, we've now decided that we should combine the two apps into one. This new single app should be free to download and have an in-app purchase (IAP) to unlock the additional features that previously required purchasing Power Music App. We considered some different options on how to do this and the best solution was to change the existing Power Music App rather than bring out a brand new app. This allows all existing users of Power Music App to continue using it without having to pay again.
This is sometimes called a "freemium" business model, where the app can be downloaded for free but there are premium features that require a purchase.
As of version 4.0, Power Music App is now free to download from the App Store. When you download it you will have access to all features that were previously available in Power Music Reader. For features that were previously only available in Power Music App, there is now an in-app purchase required. This is a one-time purchase that will unlock all additional features and it is set at the same price as Power Music App was previously. Existing users of Power Music App will not need to pay, as the app will detect what version number you originally purchased and unlock the additional features for free.
FAQ:
What about existing Power Music Reader users?
We will no longer be updating Power Music Reader, and it will be removed from the App Store on the 29th February 2020. You can continue to use Power Music Reader if you want to do so, but we recommend migrating to Power Music App so that you can continue to receive updates. You won't lose any features by downloading Power Music App. All existing Power Music Reader features are free to use in the new app.
We have released a final update to Power Music Reader (version 4.0) that adds a migration tool to allow you to easily transfer all your songs and playlists into Power Music App. This should work well for most users but if you have a very large number of songs then you may find that it fails to transfer. In that case, you can still use the backup/restore method explained in this help article. Please make sure you download this update before Power Music Reader is removed from sale on the 29th February.
If you want to continue to use Power Music Reader, you won't lose access to it. We're not removing it from your device or disabling any features. We will no longer be supporting users who continue to use Power Music Reader, other than to help them migrate to Power Music App.
I use Power Music Reader on an old device. Can I download the latest update?
Power Music App supports iOS 9 or later on the iPad 2 or newer, iPhone 4s and newer, and iPod touch 5th generation and newer. This is unchanged from what Power Music Reader has supported.
I already use Power Music App. Will I have to pay again?
No. We don't think it would be right to ask users to pay twice for the same features. When you try to use a feature that is paid-for, our server will verify your original purchase and determine whether you bought the app before or after we made it free to download. This only takes a second or two and only has to happen once. No personal information is sent to our servers – we only receive the original purchase version and date.
If you are being asked to buy the in-app purchase and you don't think you should be, please contact us at support@powermusicsoftware.com.
Does this mean Power Music is now a subscription app?
No. The full functionality of Power Music App can be unlocked with a one-time purchase.
I had to wipe my iPad/I bought a new iPad and I'm being asked to buy the In-App-Purchase again
If you are signed in to the App Store using the same Apple ID you used previously, you can tap the "Restore purchase" button on the IAP screen to unlock the features without having to pay again.