So what's so great about Power Music?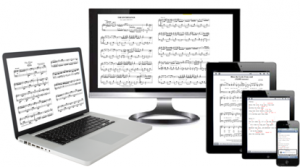 With an increasing number of music display apps coming onto the market, we thought it was time to talk about why our users think Power Music is great! All the points below are taken from comments we have received from our users over the years by email, phone and face-to-face at exhibitions.
We always welcome feedback about Power Music so feel free to send us your comments and suggestions, especially ones like this recent comment from Jeroen Jacobs – a German pianist…
Your software is best in the world. I have not seen better, more stable, more versatile, more easy to use software. It's just great. Never need anything else.
I use it together with a Microsoft Surface Pro.
It's super stable.
Power Music is for Windows, Mac, iPad and iPhone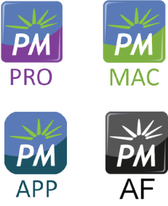 Power Music is cross-platform. Power Music editions are available for Windows PCs – desktops, laptops and tablets; Apple Mac computers and Apple iPad and iPhone. So if you or your band members have a mix of systems it's not an issue. Being able to use Power Music on Windows means you can have any size of display screen you want. You are not limited to the smaller screens, as with iPad apps. This is particularly important for musicians with complex music, for example organists, conductors with large scores and of course visually impaired musicians.
FREE editions available for all platforms
If you want to try out Power Music before buying, there are free or trial editions for Windows (Power Music Essentials),  Mac (Power Music Mac) and iOS (Power Music App) but remember these are for personal use only. If you want to use Power Music for performing please purchase a Product Key. Also any music you put into the free edition is immediately available in the paid edition.
Page based, multi column display – no scrolling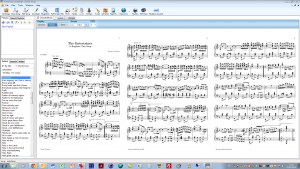 Some music display apps use a scrolling method of moving through a song, scrolling the whole screen.  Almost all of our users say that the page based system used by Power Music is much better than a vertically scrolling music display. Losing your place in the music as it scrolls up and setting the right scrolling speed are among the issues raised.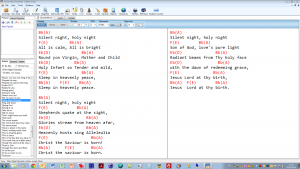 Most musicians say that page based display is more natural and the ability to display 2, 3 or more pages per screen means fewer page turns are needed. This applies to both chord sheets and sheet music scores.
FREE telephone and email support plus Help Centre
Fewer and fewer companies are publishing a telephone number for customer support – we are not one of them! We are happy to get phone calls from our users. We also have an email Support Desk system where you can open a ticket and normally get a same day response to your issue. Our Help Centre currently has over 50 videos and articles on how to use Power Music. Support lasts for as long as you have Power Music – we won't hit you with a subscription for support.
Perpetual (lifetime) software licence
Power Music licences are not subscription based. Once you have bought your Product Key it's yours forever, unlike some software that charge an annual subscription. Your Product Key gives you access to all the features of the edition – no additional charges once purchased.
Flexible, upgradeable licencing scheme
If you need to install Power Music Professional on more PCs, you can just upgrade your existing Product Key. You can increase by as many licences as you require. no messing about with multiple Product Keys. When you dispose of a PC or Mac or have to rebuild it, just let us know and we will deactivate the licence used on that device making it available for use on a new device. The Manage my Product Key page on the Power Music website lets you see exactly how your Product Key is being used.
FREE updates for current edition
All updates to the current editions of Power Music are totally free. Only when we launch a new edition or a major feature update do we ask for a small upgrade charge to move to the new version, but you can always stay using the version you currently have, if you want.
All songs are cross-platform compatible

Any song or playlist created in any edition of Power Music can be transferred to another device running Power Music. All the music, chord sheets, searchable metadata, notes etc can be transferred using our Power Music Box cloud system. You can sign up for free and try it!
Does not rely on an internet connection
When performing, the last thing you want to be worrying about is your internet connection going down. Power Music stores all songs locally on the device – no internet required. So you can perform in the middle of a field or an underground car park with no WiFi or 4G!
Very stable – with over 10 years on-going development
Power Music is a very stable piece of software, relied upon by professional and amateur musicians around the world. One of our users, Kevin Bowyer, even used Power Music for two, 8 hour, marathon organ recital in Iowa and Frankfurt, without a hitch! However, if a problem does arise, we pride ourself in reacting very quickly to any issues a user has – see the point above about support.
One-stop shop for digital music hardware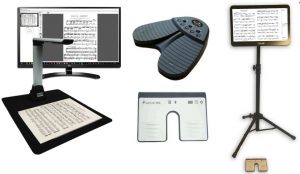 To use Power Music or any another music display app, you need some hardware – at a minimum a tablet or iPad. But what about page turner pedals, stands and mounts or even a complete digital music system? We supply all these hardware products. From a Bluetooth pedal to a Large Screen MusicOne. Have a look in the Power Music Hardware Store. We custom build all our MusicOne systems, making sure the latest Microsoft updates are applied. You can specify what processor, RAM, SSD and display size you want and we will build and test it for you. We ship all round the world.
So there we have it – some of things that we, and our users think makes Power Music great!
Oh… and by the way our Support phone number is: +44 (0) 1355 246832