Windows 10 Anniversary Update
What are the implications for Power Music Users?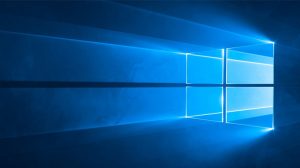 At the start of August, Microsoft began to offer users what they are calling the "Windows 10 Anniversary Update". The name comes from the fact the Windows 10 was released on 29th July last year.
The Anniversary Update updates Windows 10 from version 1511 to 1607. This is the second major update for Windows 10 since its launch. The previous update to 1511, known as the "November Update" was like a reinstall of Windows 10 on your PC. The "Anniversary Update" is the same. It appears to basically install a new version of Windows 10 on your PC. The previous version is still available to roll-back to if you "don't like" 1607.
It took me between an hour and a half and two hours to download and install the update on a selection of PCs in our office and demo PCs. The time obviously depends on the speed of your internet connection, the speed of your processor and if you have a conventional HD or an SSD.
I must say it all went quite smoothly! My only complaint was that it removed the background picture I had put on my office PC – and I cannot find the original photo 🙁
So what are the implications for Power Music Users of this update? I don't plan to go into all the improvements, changes and issue surrounding this update – there are numerous posts available – just Google it, but there are a couple of things I want to bring to your attention.
Here's a link to download the Anniversary Update: Microsoft update page
Power Music Registration
Well, firstly we are seeing a very small number of users reporting that Power Music Professional needed to be registered again after the update. We have not managed to reproduce this issue and don't really understand why this is happening. However, this is not an issue unless you have run out of activations for your Product Key, in which case a quick email to our Support Desk support@cambronsoftware.co.uk or if it is urgent a phone call to Support on  +44 1355 246832 explaining what has happened will get you back up and running quickly. No data (songs) have been lost but remember you should always make a backup of your Power Music songs. For more info on managing your Product Keys see the blog post – "How to Manage my Product Key"
Update (2/9/16) We have now identified the issue with re-registering Power Music. It only happens with Windows 10 32bit where Windows 10 was installed as an update – not a clean install.
Hard drive space
You need at least 16GB of free space on your hard drive or SSD to do the update. This won't be an issue for the vast majority of users but if you have a MusicOne Pad (Linx tablet) or are using the MusicOne Stick (Hannspree micro PC) then you may need to do a bit of housekeeping to ensure you have the space. If you have a very large database of music then copy it off the PC to a flash drive to make space.
After the update is would be a very good idea to do a disk cleanup and remove the temporary files that the update has put on the HD – you will recover most of the 16GB that it used up. Make sure you tell it to cleanup "system files". Remove old windows installations as I cannot think why you might want to revert to the old version of Windows.
Active Hours
"Active hours" is one nice new feature which is important for performing musicians using Power Music. The last thing you want is for your PC to suddenly start doing a Restart to install update during a performance!  By setting Active Hours you can tell the PC not to install updates during these times. You will find this in Settings/Update and Security/Windows Update/Change active hours.
Cumulative update to Windows 10 1607
After you have installed the Anniversary Update there is a further Cumulative update to be performed. Come on Microsoft – try and get it right first time!!  This update fixes some issues with Windows freezing after the Anniversary Update.
I will continue to investigate the Anniversary Update and I will post on the Cambron Software blog, any other issues or enhancements that might affect Power Music users.