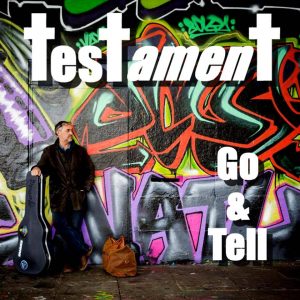 One of our featured musicians, Mike Baldwin, is keen to share his songs with other Power Music users and we have made them available on Power Music Store as a FREE virtual songbook of all the chord charts from his latest album "Go and Tell".
Get your free songbook here: Power Music Box – Go and Tell
The album is available on Amazon and iTunes.
You can read Mike's full story in the blog post here: Mike Baldwin
This album features many powerful and thought-provoking lyrics and Mike sent us a very interesting detailed description which deserves a blog post of its own, so here it is!
The following was written by Mike Balwin:
I don't go to a single church like normal church goers.  Some years ago I started to visit different churches in Milton Keynes, poke my nose in and find out what they were up to.  Sometimes I lead worship, ruthlessly roping in as many people as I can find, and sometimes I enjoy the service.  I love 'joining dots' across churches but it's not for everyone not having a single 'home' church.
The songs on this album aren't what I'd call 'worship' songs. They're observations about aspects of Christian life and pose some of the questions I had coming to faith. I hope you enjoy them or, at least, think about them and reflect on the themes.  Happy to chat about them if anyone's interested.
The name – testament – came to me at 3am one morning when I woke up with a start with the name in my head. It has 3t's representing the 3 crosses and also contains the word 'amen'.  I discovered that there is a 'Metal' band with the same name but I can confirm we're not them! To avoid any possible confusion however we're called 'testamentMK' on Facebook etc.
testament is a collaboration / database of singers and musicians from the worship teams that I've met across MK and some were kind enough to suffer (yet) another request and played on these songs.

The album is available on Amazon and i-tunes and, as the lyrics generate debate, there's a double cd pack of 9 discussion sessions for small groups containing: group questions, powerpoint slides, bible references etc.  Contact Mike B at: testament@uwclub.net for more details.

About the songs:

God so Loves the World – John 3:16 – I was determined to write a song about the fact that God loves us as much today as he did when he sent his only son & while there are a lot of unexplained bad things around us, there's a lot of good things that surround us too.
Go and Tell – Matthew 28:16~20. The Great Commission. Following his resurrection Jesus tells his disciples to tell the world about God's glory. Do we do the same? (dancing pants required).
Field of Blood – Matthew 26:14~25. The devil entered Judas and he betrayed Jesus. He was remorseful afterwards and killed himself at 'Akeldama' (Field of Blood). But  I wonder…did he feel nothing for Jesus having been in Jesus's presence for so long and witnessing first hand the things Jesus did? And how would the prophesy have been fulfilled if Judas hadn't betrayed Jesus?
Discuss in your groups….
Don't Need Jack – The image of an ordinary guy who drifted into a relationship with drink for whatever reason and is now looking for help.
God's Work – dedicated to the minority within the minority.  Those few people in our churches that do and organise absolutely everything in the name of the Lord…but is it what God wants?
Hand in Hand with God – I came to the Lord in my 40's…and it was a bit of a light bulb moment to realise that he'd always been there (DOH!). I was also reminded of the 'Footsteps' poem.
Stay with Me – Quite simply a modern take of one of my favourite triumphalist hymns – Abide with me.
Written as a simple prayer that  poetically describes God's grace, love and might set to a hair-raising melody it shouldn't just be sung at funerals. Verse 4 of Abide with me tells us exactly why we can all relax and chill.
Shout and Sing for the Lord – 2 Sam6: 12~23 – The first song I wrote! This song came to me in its complete form (words and melody) while on a bus in Salisbury. I felt a charge of energy and sang it into my phone to capture it (after I got off the bus!). David also felt exuberant on returning the ark to the City of David and it's that bursting with joy that I wanted to describe.
See Me Now – About 8 years ago a few of us started a soup run for the homeless and vulnerably housed in MK. Over the years at least 6 clients have sadly died, some on the streets. They all had backgrounds and stories. They were all individuals. Maybe in their short earthly existence they struggled but I like to think they're OK now.
This Could be the Day – This could be your 'light-bulb' day like the one I had (a few) years ago (see Hand in Hand).