Featured Musician – Jim McLaren
Accordion and piano player Jim tells us about Power Music and MusicOne
Jim has been a long time user of Power Music. He runs a large farm in Fife and has a fascinating blog about farming http://cultsfarm.co.uk/
We asked Jim to tell us about how he uses Power Music and MusicOne digital music stands – so grab your self a cup or glass of something and have a read of what Jim told us…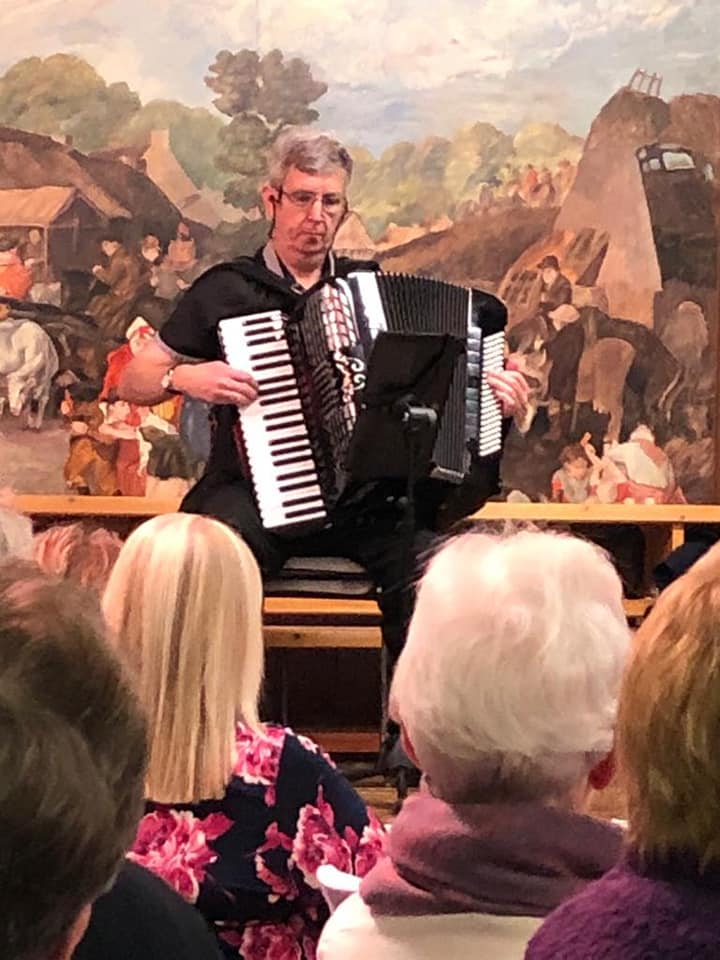 Firstly, as a musician I play the accordion and the piano. The accordion is mostly Scottish Traditional Music and second accordion to accompany others – I play occasionally in a dance band. I also play the accordion at my local church, either helping out the organist, or occasionally doing all the music myself if he is not available.
Piano playing is mostly classical piano, and as I am working towards my Grade 8 exam I have lessons every week. I also do a bit of vamping for a small accordion workshop group that I play for.
How Do I Use Power Music?
For a number of years I have been looking for a solution to the piles of music books, and seemingly endless sheets of photocopied music that now litter my home. So the biggest advantage is all I am slowly digitising all my music and now have all in the one place. I'm a Power Music Box subscriber, which makes things easier. Power Music has also been a huge help with church music. The majority of music played in church is from CH4, (Church Hymnal) though I also play some of the incidental music.
The way I use Power Music Professional/MusicOne12 for church is as follows:
1. It is great to be able to make playlists of the hymns that are to be played in the service. I can re-order, and add incidental music as required, and it makes practising and playing in the service so much easier. At one point I thought it would be good to be able to share playlists between devices using Power Music Box, but now I think it is better if playlists are kept local to the device on which they are being used.

2. Turning pages. Having the MusicOne12 with a pedal makes changing pages dead easy – not the easiest thing to do with paper music when you have an accordion on.

3. I can call up a tune at a moment's notice if required. It has not been unknown for the music for a hymn to be changed on the day. A quick search and I'm ready to go!

4. Arranging CH4 music so that it is suitable to be played on the accordion. A lot of CH4 music is written for the organ, so I have to work out what chords I need to play on the basses. I use the 'Parts' feature for this, and have a part called "CH4 Accordion with chords". I write out the melody line in music software and then add the chord notation that I have worked out. I then save this to a pdf, and import it as a part to the hymn, so I have the
original as the default, and my accordion part.

Classical Piano
I didn't use Power Music much for my classical piano or vamping to start with, as I only had the MusicOne 12. This could really only display one page at a time, and I struggled to use the pedal when playing the piano – there were already too many pedals there for me. Two things changed which made things a lot easier.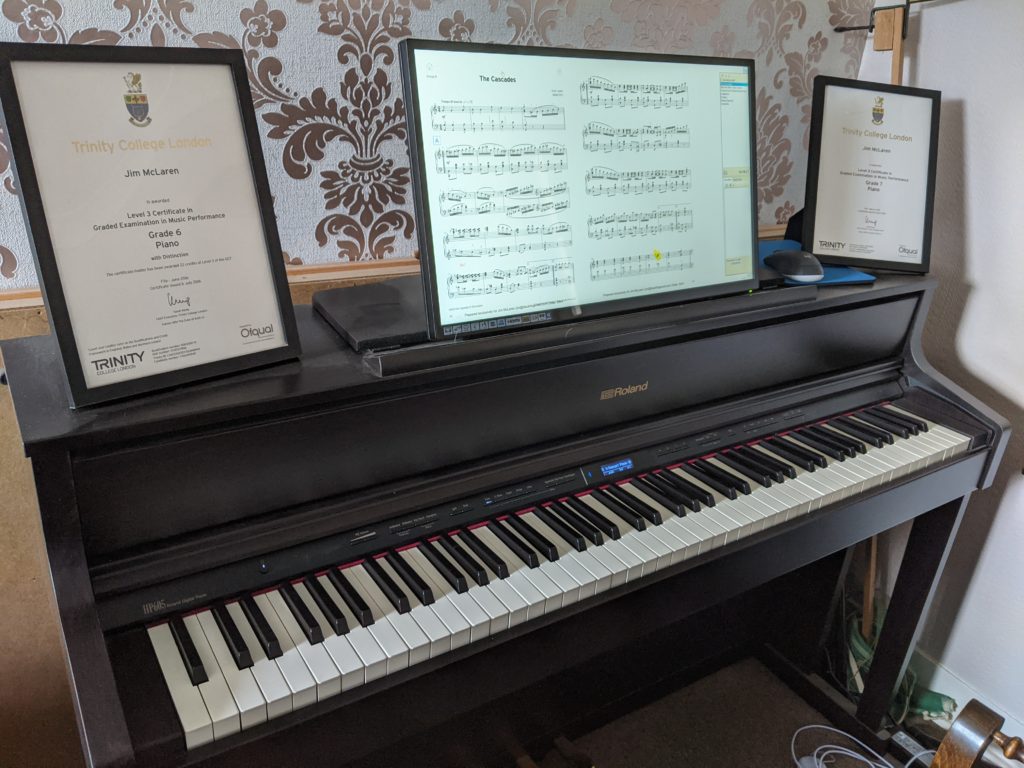 I bought the MusicOne 24. This is great for playing the piano, as I can display up to 3 pages with ease on the big screen. A quick tap of the screen is all I need to move on to the next page, which I have found easier than using the pedal.
Covid19 and Lockdown
When lockdown started, my piano lessons moved to Zoom. I found the MusicOne 24 and Power Music worked really well with this. If we started a new piece then my teacher would email it to me, and I would import it into Power Music in a matter of minutes. I use playlists for things we are working on in my lessons. But the bit I use most are the annotations. It is dead easy to add fingering or comments in the middle of a lesson, which has been great.
I now have the occasional live lesson, which causes problems a bit as I have to have a printed copy to take to them – I'm not lugging the 24 about! 🙂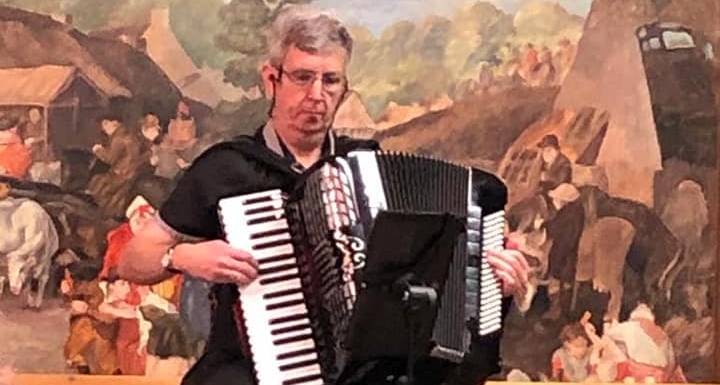 Lead Accordion
I really only play lead accordion for fun. I do go along to accordion and fiddle clubs to play, but take sheet music for these, as it is easier than taking the MusicOne 12.

However I wouldn't go back to sheet music for the following reasons:

1. It is easy to build sets and save them. I keep pdf copies of all the tunes, and build sets in a pdf editor. I then import them into PMP and save them as a category, usually the name of the dance or the type of tune (eg Dashing White Sergeant, 2/4 Marches). So if I want to practise some marches they are easily found. I have different categories for sets and the tunes that make them up.

2. Libraries. I use these to split my accordion music up into where I will tend to be playing
them. For example, Workshop Music, Accordion & Fiddle Club Music, Competition Music, Fun Stuff.
Second Accordion
Again, I tend to use sheet music for second accordion gigs, because that is what the rest of the band use, however I have all the music imported into Power Music for practising. As well as better organisation I make good use of the audio files. I have recordings of most sets as mp3, which I attach to the music. I can then practise playing second accordion along to the mp3. This is also useful with Vamping practise. I have the MusicOne 24 connected by Bluetooth to the piano so I can vamp along to the mp3.
So, how am I getting on?
Brilliantly is the honest answer. When you get Power Music on a big touch screen it really comes into its own, and I'm now using annotation features that I have not really used up until now. Thank you very much for a fantastic product.
Like many of our users Jim gives us regular feedback with suggestions for improvements to Power Music. One feature he has asked for is to be able to print his music with the annotations without needing to "Burn-in" the annotations – it's on our "wish list"!
I would like to thank Jim for this article, and wish him all the best for the future – musically and farming!