Talking about Tablets (the new MusicOne 13)
Here at Power Music Software (and previously as Cambron Software) we have been selling MusicOne digital music stands since December 2011 – almost 8 years! All of these music stands have run Power Music – initially Power Music 4 then Power Music Professional.
The basic features of a digital music stand are:
Touch screen display
Solid state hard drive
Fanless or silent
Adjustable floor stand
Foot pedal page turning
Power Music Professional
Our current range of MusicOnes have screen sizes from 10″ to 27″. This week we have launched a new 13.3″ MusicOne which I am very impressed with. This blog goes into some detail about the new MusicOne 13 – if you don't want to read the details have a look at this short video – sorry about the quality! It's down to the very bright screen on this tablet – more about that later.
MusicOne 13 in detail
OK! so you have decided to read on…  So what's so good about this German designed Windows tablet?
1 The screen
The screen is one of the brightest and sharpest I have ever seen on a tablet. It is 13.3″ full HD 1920 x 1080 and the viewing angle is excellent in both landscape and portrait modes. This is down to the fact that it is an IPS display. Other tablets and laptops that use TFT LED displays are never quite as bright and suffer from poor display when viewed at at angle. This is quite an important issue for digital music stands where the person looking at the screen may move to the side sometimes or even share the screen with another musician or singer. The 10 point multi-touch screen works well but it is recommended to increase the Windows scaling to 125% or even 150% to make selecting things on the screen a bit less fiddly.
2 Expansion (USB)
Most tablets have one single full sized USB 2.0 or USB 3.1 and a micro USB. Usually, the micro USB doubles up as the charging port so you effectively have only one usable USB port. The new MusicOne 13 has 2 full sized USB 3.1, a USB-C and a separate bullet plug DC IN charging connector. So you always have 3 USB ports free. The inclusion of a USB-C is very interesting on what is a budget tablet. USB-C is a very high speed interface for data, video and sound. With suitable cables you can attach an external monitor with Display Port, HDMI or even VGA. I purchased a USB-C hub to test out the capabilities of the USB-C. The hub has a full sized USB 3.1, USB-C, full sized HDMI, Audio jack and VGA connectors. The only issue is the length of the cable which would mean the hub would be "dangling" from the USB-C on the tablet putting a strain on the connector, so I also purchased a 20cm USB-C extension.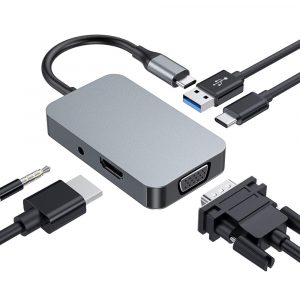 There are USB-C hubs with many more ports including wired ethernet and of course you can just buy a USB-C to HDMI cable if you just want to connect directly.
3. Expansion (SSD)
I think this is what marks out this tablet from others we have looked at in the past. You can easily add an M.2 Solid State Drive to the tablet. It must be the 42mm standard and low profile but these come in sizes from 120GB to a massive 1TB! The internal SSD storage is 64GB – more than enough for most users – and is eMMC (Embedded Multimedia Card) flash memory which is much faster (and more robust) than conventional spinning hard drive but it is not as fast as M.2 SSD. This is the one I tested in the MusicOne 13 – a Transcend 120GB.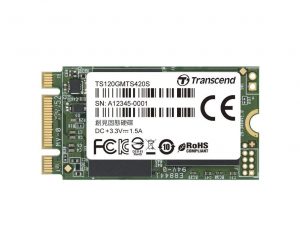 The question is – do I use the M.2 SSD for Windows AND data, or just keep Windows on the 64GB eMMC drive and use the M.2 SSD for data?
I first tried moving the Power Music database onto the M.2 SSD and did some timings.  I could not find any significant improvement in either the loading time for Power Music or the time taken to load a song or turn pages. However by moving the Power Music database to the M.2 SSD vastly increases the amount of data you can store, and if you also want to store video or audio files on the tablet this is where you should store them. If you want, you can point the Documents, Pictures and Video folders in Windows to the M.2 SSD which will be the D: drive. Keeping as much free space as possible on the eMMC C: drive is advisable as when you do a Windows Feature update (about every 6 months) you need about 10 GB free space to guarantee a successful update.  (PS it can take a very long time to install these Windows Feature updates – several hours!)
Then I installed Windows 10 64 bit Home on the M.2 SSD with Power Music and the Power Music database and did some more timings. Windows started up (from a Shutdown) in about 30 seconds compared with 43 seconds using the eMMC SSD. Not a vast improvement for all the effort involved in installing Windows on the M.2 SSD! Likewise Power Music launched a couple of seconds faster but again no great improvement and page turning was the same as before. Where there was a very significant difference in speed was copying files from a USB 3.1 flash drive onto the eMMC or M.2 SSD. There was a 3 X speed increase showing just how fast the M.2 SSD really is! Maybe doing Windows Feature updates would be quicker if Windows was on the M.2?
So what's the conclusion? I would recommend keeping Windows on the eMMC SSD and moving all your data including the Power Music database to the M.2 SSD. The bottleneck for the tablet would appear to be the processor speed – not the speed of the SSD storage.
A wee word of warning about M.2 SSDs. There are some M.2 devices available from Chinese companies which do not have a very good reputation for reliability, We will only fit SSDs from "well known" companies!
Other features
As well as the USB and SSD expansion there is an SD card slot for microSD(HC/XC) up to 256 GB, and audio out/mic in 3.5mm jack and a micro HDMI port for connecting a TV or monitor with HDMI. This carries both video and sound. As mentioned before, power for charging comes from a separate barrel type connector on the tablet. The power supply is 12V 2A unlike the usual 5V type found on other tablets.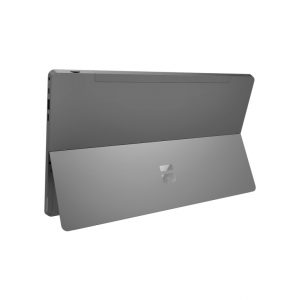 Bluetooth is 4.2 so any Bluetooth device can be connected., including the full range of PageFlip and AirTurn page turner foot pedals.
WiFi is dual band 802.11ac/b/g/n: 2.4 GHz/5 GHz and so far has been very reliable.
The front camera is 1.8MP and there are dual microphones which work well with Cortana – if that's your thing!
The stereo speakers are adequate but for serious audio connect a speaker using the audio jack or Bluetooth audio.
Conclusion
If there is a failing of this otherwise excellent tablet it is the processor – an Intel N3350 dual core Celeron which will not let you play 3D games but for Power Music, email, web browsing, playing videos and office tasks it is perfectly adequate. And a free 1 year subscription to Office 365 is included!
The overall feel of the tablet is a solid well engineered device and even after a day of continuous use it does not get too hot.
The battery is a Lithium polymer 7.4V 5000mAh. I ran the tablet at full brightness for over 4 hours and the battery was at 38%. So a decent battery life is possible and this will increase if the brightness is turned down.
Overall I am very impressed with this tablet. It answers some of the failings of other tablets in the areas of expansion and screen quality in particular and the price is very reasonable.
We are launching the MusicOne 13 with a high quality K&M stand and Power Music Professional (2 PC licence) for only £425. You can add a pedal and M.2 SSD expansions on the website.
Have a look at the MusicOne 13 and our other MusicOne on the Power Music hardware Store or pick up the phone to us on +44(0) 1355 246832
As always your comments on this blog post are most welcome.