HD Video Recording – on a budget

This post is a bit different – it has nothing to do with Power Music (my day job at Cambron Software) and looks at a project I am involved with in my spare time – setting up an HD video recording system in my church.
I am a member of Westwoodhill Church, a local independent church in East Kilbride. My "job" in the church is to look after the AV side of things – equipment, software and people. You know the people that sit up the back of the church and get the blame when anything goes wrong! As well as managing song projection, sound desk, PowerPoints and DVDs, we video record most services in the church so that members and others who can not attend church due to ill health or other commitments can view the Sunday services.
This article is about how we moved from an outdated and pretty ropey analogue recording system to a modern digital HD system – on a very low budget.

Before we started on our move to digital I asked around what the typical spend on a new digital recording system might be. I was horrified! Anything from £20,000 for a "basic" system to £500,000+ in a mega church! We were definitely going to have to come up with some creative solutions to keep the system to a sensible budget for our church!
A bit of the history
For about the last 15 years we have been recording services and events in our church. All our setups have been done by ourselves on low budgets!
Beginnings
It all started way back in 2002, when we purchased a Sony pan-tilt mount and a second hand Canon Video8 camcorder on eBay, which had a LANC connector for zoom control and a composite video output. The Canon camera had a faulty internal tape recording system but that didn't matter as we were only using the optics and the video output. We recorded straight onto VHS tapes using a domestic video recorder and duplicated tapes (when required) by tape-to-tape copying using a second video recorder – you can imagine what the quality of the second generation copies were like!
Improvements
Then in 2006 the church had a dedicated AV area constructed at the back of the church for the sound desk and the PCs for PowerPoint and song words projection. This is where we built our first "real" recording setup.
Here it is…
We bought a slightly better quality camcorder (again with a broken recording system!) and fitted it to the Sony pan-tilt mount. We used SD composite video, through an analogue mixing desk and recorded onto a Samsung hard disk/DVD recorder. We could fade between the output from the PC running Power Point or song projection and the camera output. We had two 5 inch LCD screens, one for "Preview and Queue" and the other for the "Live Program". This is what we used to record services up until August 2017, and it worked very well. The quality at the time was OK and duplicating DVDs gave much better copies than VHS tape.
All this kit was sourced on eBay or through second hand stores on the web, and was installed by ourselves. I think the total cost was less than £800.
However since 2006, the world of video had moved on, and compared to modern HD recordings the quality of what we were producing was starting to show its age. Also some of the components were starting to show their age as well! Also we really wanted to move from physical DVDs, which took time to duplicate (and got lost!), to online video storage using YouTube.
The new digital system
So the decision was made to scrap the existing system completely and move to a fully digital HD recording setup with the services available on our church website from our YouTube channel. As before we were determined to DIY on as small a budget as we could manage but get as good quality as possible.
So here's what we ended up with…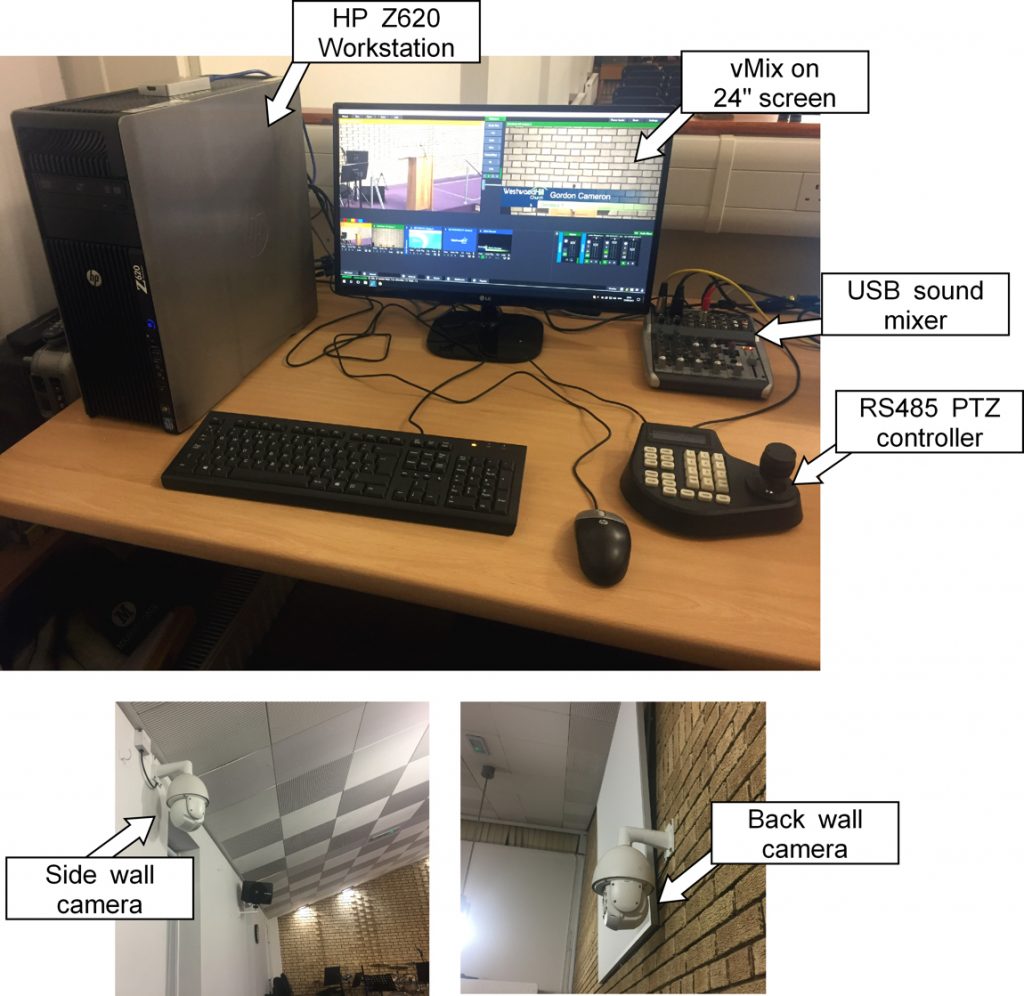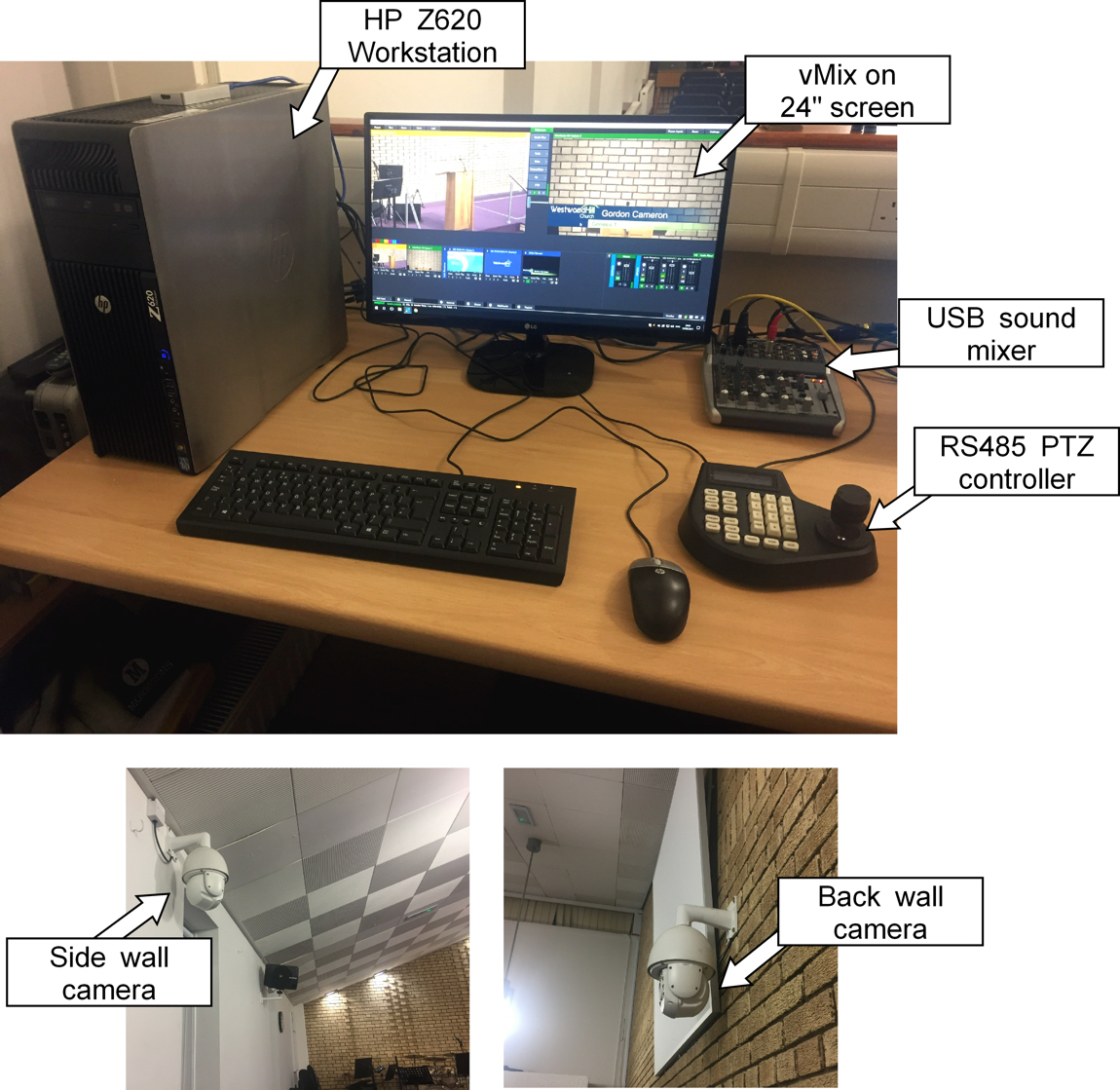 The whole setup cost under £2000! The main reason for the incredible low cost of the system was that we picked up 2 second hand HD-SDI PTZ security cameras on eBay for £160. It was a risk as we had no way of knowing the quality of the cameras, and the new price of these cameras was over £600 each, however it turned out they worked pretty well!
We chose the vMix software application for mixing and recording as it is very powerful, easy to use and has a good reputation for use in church environments like ours.
We have NDI on a PC running ZionWorx which is used for words projection and PowerPoints. We also run NDI on another PC used for playing streaming video and DVDs as ZionWorx does not allow this at present. NDI allows us to mix and overlay or picture-in-picture PowerPoints or videos used by the speaker into the recording in the vMix software.
The two cameras are PTZ (pan-tilt-zoom) outputting full 1080p HD over SDI, with 20x optical zoom, controlled by an RS485 joystick PTZ controller. They output SDI which is an industry standard for professional broadcast cameras. One camera is mounted on the back wall for a straight on, head shot and the other is mounted on the side wall for an alternative wide angle shot.
The computer we chose was a "refurbished" (it looks brand new) high-end HP workstation with an 8-core Xeon processor, 16GB RAM, a 128GB SSD and a 2TB conventional HD for storing the library of video recordings. We bought this from Bargain Hardware. A good graphics card was required so a GEFORCE GTX 1050 was installed in the HP workstation. The Z620 is not the newest of workstations, it was launched back in 2013 and at the time it was one of the most powerful PC available. However it delivers ample power to run the vMix software, has lots of PCIe expansion slots for the capture cards and is rock solid running Windows 10 Professional 64bit.
The SDI video is captured from the cameras by a pair of AVerMedia DarkCrystal 110 PCIe capture cards. We also have an HDMI capture card for capturing video from an additional source, for example another camera or a visiting speaker's laptop. We can also capture video and sound from an iPhone running NDI over the WiFi network.
Sound is captured directly into a Behringer USB mixer from the main mixing desk, and a pair of stereo microphones is used to pick up congregational singing and music from the band.
All the PCs are connected together on wired Gigabit Ethernet LAN.
So what did we spend?
Here's a breakdown of what we ended up spending. Obviously there are no labour costs as we did all the installation ourselves. We are very fortunate to have several very competent engineers in the church!
Costs
| | |
| --- | --- |
| HPZ620 Xeon 8-core, 16GB RAM, 128GB SSD, 2TB HD, GEFORCE GTX 1050 | £800 |
| 24 inch monitor | £100 |
| VMix HD Video mixing software | £250 |
| 2 x SDI Capture cards single PCIe | £120 |
| 2 x PTZ cameras HD-SDI (refurbished) | £160 |
| HDMI to USB 3.0 Capture card | £100 |
| Stereo pair microphones and USB mixer | £150 |
| PTZ RS485 camera controller | £50 |
| Camera power supply | £50 |
| Cable, trunking, network bits and pieces etc | £200 |
| Total | £1980 |
Story so far…
We have recorded about half a dozen sermons on the new system, at the time of writing this article. We have had a few teething problems – mainly to do with sound quality and what video bitrate to use. We also had an issue with flickering due to the discharge lighting used on the stage, but this was solved by changing the frame rate of the camera to 100 fps. We are very happy with the results we are getting now and we have had very positive feedback from people viewing the YouTube videos. My next task is to train up a group of people to operate the system and get a rota setup for the recording.
You can see our efforts on the church website in the Sermons section:
If you have any comments or questions I would be happy to hear from you.