Guest Blog – Richard Teare – Gospel Bell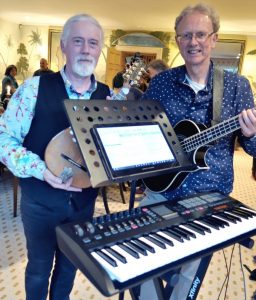 Here at Cambron we are always interested to hear from our Power Music users and last year we ran a series of blogs entitled "Musician of the Month" see the Featured Musician page on our website. The musicians included a harpists, two organists, an Austrian party band, a big band conductor and several worship leaders – quite a mix!
I would like to introduce to you another featured musician Richard Teare – here's his story…
I have been using Power Music Professional for around 18 months and it has become an invaluable resource. I travel overseas regularly with my work and so Power Music on my laptop (connected to a travel instrument) enables me to practice. I use Power Music on a tablet for church-based music and its stability and flexibility (e.g. easy key changes) are ideal, especially with a large repertoire of songs. I use Power Music in other settings too (such as  retreats) as seen in the photo of my laptop running Power Music.
I also enjoy playing with a Gospel blues band (Gospel Bell – see YouTube: https://youtu.be/d5JwCPLmZeg) and Power Music helps with planning arrangements. There is a rich tradition of Gospel music and Gospel Bell sustains this by drawing on blues, folk and country music influences to re-create these songs. Our regular performances aim to be inclusive and in some venues, Gospel Bell becomes a collective of people playing and singing together. Most of our repertoire comes from old American blues and country music traditions. The songs have their basis in rural poverty and contain strong expressions of faith – despite the difficult lives that the song writers and their contemporaries led.
I should like to thank Cambron for their excellent software and user support. If you are looking for a music program to bring all your music together in one place – don't hesitate – Power Music Professional does it all!
Richard Teare