New feature requests that are already in Power Music!
In our recent survey we asked how best to describe your usage of Power Music and what features you would like to see in future updates to Power Music. We were overwhelmed by the positive comments and by the number of situations in which Power Music is used. From church worship bands to Morris dancing bands – it is good to see it so widely used. A big thank you to all who took part.
We were also really impressed by the detailed responses from you about what features should be added to the new versions of Power Music coming out this year.
It turns out that quite a number of the requested new features are already in Power Music! So the purpose of this article is to explain where these features are and how to use them.
Most of the requests were in reponse to the question about new features you would like to see in Power Music Professional, so that is why many of the answers only relate to that edition.
"I would like to be able to change the order of my pieces of music after I have set them in the play list."
Yes you can!
Power Music Professional and Essentials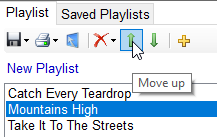 Use the Up/Down arrow buttons in the playlist toolbar. These buttons are also available in full screen mode.
Power Music Mac
Drag and drop to re-order the playlist.
iPad App
With the Playlist displayed at the left of the screen tap on Edit then drag the playlist entries up or down to re-order.
"Change font and font size for chord sheets"
In summary – to get large text add more page breaks and shorten the lines.
This is a question which is often asked and we intend to add more automation to paging in the next versions. Meanwhile, here is how you can change the font and font size.
In the Windows versions (Professional and Essentials) the font is selected in Tools – Settings – Colours/fonts. The restriction on fonts is that a mono-spaced font is used to ensure consistent positioning of chords.
This is also where you change the font colours.
Chord sheets are resized to fit the screen. This means that the more lines in a page and the longer your lines are, the smaller your text will appear on the screen.
The answer is to add page breaks and make sure you don't have extra long lines. The samples provided show how this is done.
There are another couple of setting which are used when determining the size: Tools – Settings – Page turning – maximum font size for auto-fit (stops it getting too large!) and maximum lines on page (before a warning pops up).
The good thing about chord sheets is that you can display multiple pages per screen. In the iPad app this is restricted to 2 pages side by side in landscape mode and 1 page in portrait.
In Windows and the Mac you can have unlimited page per screen, although more than 3 is unlikely to be practical.
There is extensive documentation on the the chord sheet editor in our Help Centre, along with a video tutorial:
Chord Sheet Editor (PM Professional and Essentials)
Help video: Chord Sheet Editor (PM Professional and Essentials)
Power Music Mac and the iPad app use the same principles.
"I hope to include liturgical texts, prayers and readings within the music 'playlist'"
You can! Just create new 'songs' and give them appropriate titles. Many people already do this by typing the required text into the chord sheet editor. Use Libraries to keep your readings, prayers etc. separate from your songs.
"If a timer could be incorporated so that only one press of the pedal would register, this would avoid an accidental double press"
This already exists. In Power Music Professional and Essentials go to Tools – Settings – Page turning – Delay between page turns. This value is set by default to 0.5 seconds. Increase the value to increase the delay between page turn requests.
"It would be extremely useful to be able to type in chords using a keyboard when editing chord sheets rather than having to select the chord/extension etc and then enter it."
Yes you can! The suggested chord list on the left (based on key) and the drop down chord creator are for assistance only. Most people find it helpful to simply click on the chord on the left to insert it, but you can just as easily type your chords into the text. Power Music recognizes valid chords. The 'Parse' button will show you if your chords are valid or not, or just press 'Preview' to see if your chords are accepted, and therefore transposable. Use the help references above to see how a chord is structured in the chord sheet editor.
"Another feature which would probably be useful would be to be able to suppress particular verses from a hymn"
There are three ways of doing this.
1. Duplicate the song and remove the verses you don't want
2. Use performance notes to indicate the missing verses
3. Use annotations and highlight the verses to omit, or use
"As the size of the database grows selection of lists just by the first letter gets less and less useful. Could the first few letters be done?"
Assuming you mean the search by Category or Author lists – use the Quick Find button on the toolbar (Power Music Professional and Essentials). You can type any number of letters and get a filtered list of songs matching your letters using title, lyrics, notes, author, category, Bible reference, CCLI number and Archive number.
"Facility for recording which book and number within that book the piece has come from"
Use Category for the book name and Archive number for the number. Then use Quick Find (see above) to find by number. Alternatively add the number to the title, using Category for the book name. This is how the earlier Spring Harvest songbooks were done. If you buy one of these Spring Harvest digital songbooks you will find that the titles are prefixed by the number.
"A way to scan in music using the built in camera on the device"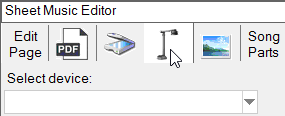 Yes you can! In Power Music Professional select the document scanner icon on the sheet music editor:
You should see your camera in the list of devices. You can use this the same way as the document scanner, although the resolution of a web cam is usually quite low so the quality of your scans may not be great. Have a look at this video to see how it works:

"Can it make me a better musician/player!!?"
Sorry, no! But Power Music will remove distractions enabling you to concentrate on playing 🙂
"Multi colour annotations"
Most annotations pop up a properties box when selected so that you can change the colour. This colour is saved for future sessions.
"Auto rotation of screen"
Yes, this is built in automatically. Check your Windows settings to see that it is enabled. Rotation Lock – OFF
"Lite version"
There are free versions for Windows, iPad and Mac.
"Create backup and upload to DropBox"
Yes, you can! Go to File – Backup. Select a DropBox location or copy and paste later to DropBox.
"Start up in the last library you were in"
Yes – it does!
"Allow view of additional pages without having to select edit or full screen"

Use the "Screen" arrow buttons
"I'd really like to be able to search in Help sometimes but I can't see how to."
Have a look at our new Help Centre – full text search is included: Help Centre
"Search on Archive Numbers"
You can! Use the Quick Find button on the toolbar.
"Page turning to reference points i.e. DS Coda etc"
You can! In Professional, use Performance Marks. Have a look at this video tutorial:
"I am transposing sheet music for brass players. Some way of allowing display of the sheet music for a particular instrument would be helpful"
You can! Use 'parts'. Have a look at this video tutorial:
"An easy way to quickly toggle between annotation mode and performance mode"
You can! In full screen mode (performance mode) – click in the centre of the page to bring up the annotation toolbar. Add your annotations and click Save or Cancel – takes you back to full screen mode.
"I'd like to see an improvement to PMZips please, to enable me to select specific files to be zipped and transferred from my PC to my Win 10 tablet."
That is how PMzips work. Go to File – Export songs to a PMzip. This brings up a list of all songs in recent order. You can re-order by title. Simply select the ones you want and move them to the export list. Click Export to create a PMzip of the specific songs. On your Windows 10 tablet go to File – Import songs from a PMzip and browse to the PMzip you created.
"A way to assign multiple foot switches via Bluetooth. ie. page up-page down transpose up-transpose down next song on playlist-previous song on playlist-play mp3"
You can! You can pair multiple Bluetooth pedals to a device. Some pedals for example the Firefly allow you to program each pedal switch to produce a different key press. Just program the appropriate key press to achieve the required result.
"..would like to keep multiple key versions under one saved song .."
You can! Use 'Parts'. Have a look at this video tutorial:
"I'd love to remove page margins or white space to maximise the page .."
You can! During import – select an area of the page which eliminates white space. In the PDF import this will be applied to all pages. For songs already imported you will need to edit each page – go to Edit song, select the area you want and click Crop. Do for each page and click Save. In a future version we will look at doing this automatically.
"Is it possible to link with CCLI and enable the importing of songs, either by chord sheet or sheet music currently this is only possible by creating a pdf which cannot then be edited"
To enable editing of CCLI Song Select chord sheets you can import as PDF in the chord sheet editor. CCLI chord sheets are images so you have to select the area of text then click Extract Text. Power Music Professional will then perform OCR (Optical Character Recognition) to extract the text from the PDF. You may have to perform further editing to align the chords correctly but this is editable and transposable.
"Transfer files with my Mac version at home"
Use Power Music Box. This is how to transfer songs between different devices and different platforms.
"Ability to go back to specific points within the music"
Yes you can! In Professional, use Performance Marks. Have a look at this video tutorial:
"If I could bring up songs with key words and not have to use the first few letters of the song would be helpful"
You can! Use the Quick Find on the toolbar. If you have specific key words you can entrer these in Notes and they will be found in the Quick Find.
"A quicker way to have access to playlist and loading them. My husband & I do 5 to 6 gigs a week in nursing homes and I have to change to a special list on the fly by request"
Use Libraries. This allows you to select from songs in a specific list.
"I want to change the colour of the default pencil annotation"
You can! Go to Tools – Settings – Annotations.
I hope this has been helpful. Please contact us if you have any problems implementing any of these features.
Our next version of Power Music for Windows is going to be more "Windows 10" styled and more touch screen oriented.
Watch this space!