Exhibitions and Shows – Have they a future?
A couple of weeks ago we headed off to Eastbourne to exhibit at the 2016 Mission Worship Conference.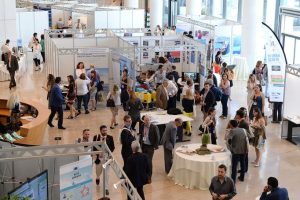 While preparing for this exhibition I started reflecting on the exhibitions Cambron have attended over the last 9 years and the exhibitions I went to back in the 1980's when I had a small computer company specialising in hardware and software for the Acorn BBC Micro computer. How life has changed!
Back in the 80's at the start of the micro computer revolution there were really only two ways of getting your products known.
Firstly there were the magazines – there were hundreds of them! A few "heavy-weight" offerings like Byte and PC World were cross-platform but the vast majority of computer magazines that filled the shelves of W H Smiths etc. were platform specific.  In the field my company was selling into – the Acorn platform – there was Acorn User, The Micro User and Archive, all dealing with the BBC micro and latterly the Archimedes. (As an aside – who back then in the 80's would ever have thought that the Acorn RISC processor (ARM) that was developed by Acorn to power the ill-fated Archimedes computer would go on 30 years later to be the processor in every iPhone, iPad and 60% of all other mobile devices (in 2013 10 billion of them were produced!!) .

Anyway back to the main thread… To get your product known back then, you could send in press releases to the editors, or you could send free copies of your software or hardware to the many reviewers and try and get one of them to write a review and then get it published.
Or… you could advertise.  Adverts were pretty expensive in those days – I remember a half page mono advert in Acorn User, like this one from 1989, costing upwards of £400.  But it worked and thousands of eager microcomputer "nerds" bought by mail order from these adverts.
Then there were the microcomputer "shows".  Usually organised by magazines. We went to several  of them – "The Acorn User Show" and "The Micro User Show".  These were huge events where thousands of micro users queued to get into the Barbican or the Horticultural Halls or the GMEX centre in Manchester. People came to buy and they did so in great numbers! There were really no other places to see new hardware or software – a few computer shops existed in some big towns and cities but no PC World megastores in those days!
By the end of the 80's the micro bubble had burst – I closed down my company and returned to an academic life, teaching computing, for the next 20 odd years.
But enough of nostalgia – back to the present situation…
Cambron used to attend more than 6 international exhibitions in a year. NAMM Show in LA, MusikMesse in Frankfurt, Music Austria, the various CRE – Christian Resources Exhibitions, Mission Worship and smaller events organised by groups of churches. But it's all changing now.

CRE has had its "difficulties". We must have attended about a dozen CRE shows across the country but lately the attendance has been quite poor and the move to the massive EXCEL Centre I think was the final "nail in the coffin". The EXCEL is not my favourite venue so it was good to hear the new management that has taken over CRE are moving back to Sandown Park for the next main CRE event.
MusikMesse which we have attended 3 times is struggling with it's purpose in life. It is a trade show but is now open to the public – but you cannot sell at it!
NAMM is amazing but it is just too big, brash and noisy. The show is full of aging rockers dressed in Megadeath t-shirts and leather jackets (slight exaggeration!). But it is just so big it is very difficult for a small technology company to make it's presence felt among all the rock and country music.
Music Austria, which we have just returned from, is – in my opinion – the best exhibition we have ever attended. Austrians love music and are genuinely interested in new technologies. They are also the friendliest, happiest and most laid-back bunch of people I have ever met. I was even interviewed by ORF for the national TV news about our innovative products.
Which leaves Mission Worship… As far as I am concerned this is THE venue to meet and talk to Christian worship musicians and leaders in the UK. We really enjoy attending this event, even if it is at the other end of the country! And it's great meeting up with a large number of our customers at the event.
So where does that leave the whole concept of exhibitions and in particular music related exhibitions?
I started by talking about exhibitions in the 80's where they were vital for any company to attend to show and sell their products.  However something has happened – THE INTERNET or to be more accurate the World Wide Web. The revolution this has caused has changed almost every aspect of life, in particular how we find out about things and how we purchase them. There is now no need to travel hundreds of miles, to see the latest gadget or software – it's there in our living rooms on our tablets, phones or smart TVs.
I fear that the future for exhibitions is not bright.
One example was the MITS event which was planned for Manchester at the end of last year. We were all booked up for this and planning our stand, when at a few weeks notice the event was cancelled. This was a real shame as it fitted exactly the type of show we wanted to attend. The reason given was that it was not going to be financially viable, as a number of companies had pulled out and cancelled their stands.
So is the answer to abandon shows and exhibitions? After all they are expensive events to attend. What do you think – do exhibitions have a future?  Why not let us know by posting your views in the comment section.
Thanks for reading my ramblings and please comment!