Power Music: No longer supplied on CD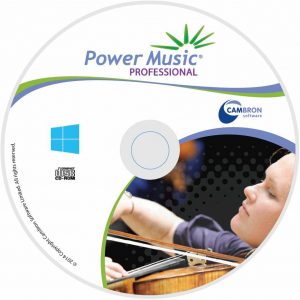 Since the launch of Power Music many years ago (actually way back in 2007) Cambron have always offered users who purchase the software the option of download or buying it as a physical copy on CD.
As from  Friday 23rd September, we will no longer be supplying CD copies of Power Music Professional or Power Music Mac.
Of course, the important thing is not the CD but the Product Key which is used to register and activate Power Music.
There are several reasons why we are doing this:
1: Power Music Professional and Mac are available as downloads.  Since an Internet connection is required to register Power Music it seems sensible to download the program as well.
2: Fewer and fewer PCs and Macs are being supplied with DVD/CD drives. With the rise in tablet PCs and ultra-lightweight PCs and Macs, manufacturers don't want to take up the space an optical drive occupies or add the extra weight.
3: Download always gets you the latest version of Power Music.  CDs are duplicated in bulk so they very quickly go out-of-date. Not a big problem as every time you launch Power Music (if you have an internet connection) it will check if a newer version is available and prompt the user to upgrade. Cambron regularly release new versions of their software with new features and bug fixes – just have a look at our Version History page on our Power Music website.
4: Get Power Music quicker. Don't hang around waiting for the post to arrive, as soon as you complete your purchase on our website you will be emailed your Product Key so you can have Power Music up and running in minutes!
5: And finally – Save money on postage. 
Still want a box?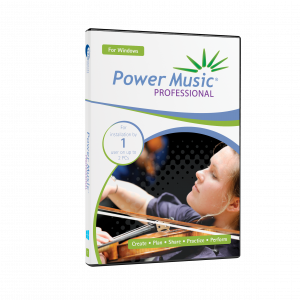 Don't Panic! All this does not mean you cannot still purchase a boxed product of Power Music. We will still be supplying physical boxed product which will now contain a Product Key Card and an Installation Guide. Just choose this option on the web site.
It is surprising how many people just like the security of having a box with their software and also the number of people who buy the product as a present for someone and want to hand them a physical box. And, of course, we will still be selling the boxed product at exhibitions.
So if you are purchasing Power Music Professional or Mac you still have a choice of getting your Product Key by email when you complete the purchase or have a boxed product sent by post.
Bundle offers: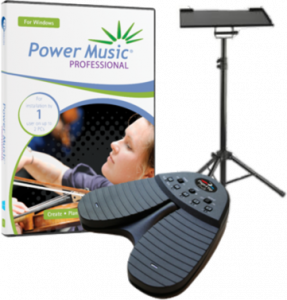 If you purchase one of the money-saving Power Music bundles – with a pedal, stand or scanner – you will receive the Power Music boxed product along with the other items.  If you want the Product Key immediately just add a note to your order and we will email it to you.