How to manage my Product Key
Two of our most frequently asked questions are:
1. I have bought another computer/reformatted my computer. How do I get Power Music and all my songs back?
2. I have tried to register my copy of Power Music and it says I have used up all my activations. What do I do?
Here I will try to answer these questions and in so doing provide answers to other related questions.
First an explanation of what product keys and activation codes are and how they are managed.
Product Key
Product Keys are used to license Power Music Professional, Power Music Mac and Power Music AF. This is what you buy when you purchase one of these products. All our products are freely available for download, but without a Product Key they are limited or unusable.
Power Music Professional and Power Music AF will not run without activation using a Product Key.
Power Music Mac will run as a trial if not activated. The trial allows you to add up to 10 songs and also allows unlimited purchased songs. Purchased songs are those which have been bought from Power Music Store or redeemed in Power Music Box using a voucher code. These are added to your Box account and may be downloaded to the trial version of Power Music Mac without having to buy a Product Key. There will be a blog post at a future date on Power Music Store. You can read What is Power Music Box? here.
You should always keep a note of your Product Key – it is valuable!
Activation Code
When you activate Power Music using your product key, a unique Activation Code is generated. This code is specific to a single installation of Power Music. You can see your Activation Code in Power Music as follows:
Power Music Professional, AF: Click on Help->About
Power Music Mac: Click on Power Music->Preferences…
It is worth taking a note of the Activation Code because it will help with the answers to questions 1 and 2.
Managing your product key
Product Keys are stored on our cloud database with the associated number of allowed installations (activations). The Product Key Activation Codes are also stored. Once you exceed the allowed number you will not be allowed to use further activations without either upgrading the number of allowed activations or contacting us to deactivate one or more of your Activation Codes.
How many installations are allowed?
It depends what you have bought. It will be one of the following:
Single user product key. This allows you to activate the software on two of your own Windows PCs (Power Music Professional or AF) or five Macs (Power Music Mac).
5 or 10 PC Product Key. This allows a single institution or organisation to install Power Music Professional on up to 5 or 10 Windows PCs
How do I upgrade the number of installations?
Go to Manage My Product Key https://powermusicsoftware.com/Support/My-Product-Key. Enter your Product Key or Activation Code in the box. You will see all your activations displayed with the date last used (while using an internet connection). In my case my band has a 5 PC license: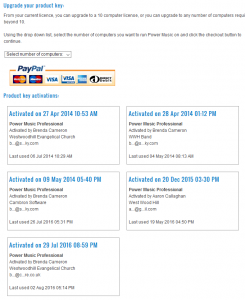 I can select the number of installations I want to upgrade to from the drop down list. Once you are past 10 it works out very economical, about £12 ($14-$15, 13-14 Euro) per installation.
How do I use more without paying?
Contact us and tell us which of your Activation Codes you would like to deactivate. We will then deactivate the ones you tell us about and that will free up more installations.
In my example above, you can see that there are a couple of activations which have not been used since May 2014 and July 2014 – these two could be deactivated.
To get back to the original FAQ:
1. I have bought another computer/reformatted my computer. How do I get Power Music and all my songs back?
First of all, make sure you perform regular backups! In the software, go to File – backup. Alternatively use Power Music Box to store all your songs.
Second, make sure you know your Product Key.
On your new setup, simply go to www.powermusicsoftware.com/download and download the software. When you are prompted to activate with your Product Key follow the instructions. If you get a message that you have used up all your activations then read this post again and decide whether to upgrade your license or contact Cambron Software to deactivate one or more of your activations. Once you are using Power Music again, go to File – Restore and browse to the backup you made earlier, or go to My Box and download your songs.
2. I have tried to register my copy of Power Music and it says I have used up all my activations. What do I do?
I hope this has already been answered above!
Please let us know if this blog post is helpful or if you would like us to provide more information.