Alison Eve – Harpist, Singer and Songwriter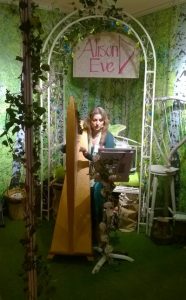 The photograph features Alison Eve (www.alisoneve.co.uk) at the National Wedding Show at the NEC using Power Music Professional on her white MusicOne.
What Ali says:
So indispensable now, and also attracts attention from musicians and blokes in general (boys and toys!) wherever I play, whether at weddings or worship stuff. Thank you.
A little bit about Alison Eve
Ali wrote her first song with a friend when she was 15, and since that time has sung solo, with a folk vocal group called, Messenger, a heavy metal band, called, Ascent, a folk-rock band, Eve & The Garden, and the young women's choir, nChant. There is a definite spiritual aspect to Ali's writing, and although her faith and spirituality has shifted and grown since becoming a Christian in her teenage years, the deep world of spirit and soul and the sanctity of all creation continues to infuse and spark her musical expression.
In April 2012 after meeting Cambron on our stand at an exhibition, Alison decided that Power Music and a MusicOne would be the ideal set-up for her.
Ali was playing at quite a number of weddings and so the white version of the MusicOne blended perfectly with her style.
You can read more about Ali here.