Music Scanning – How to get the best results.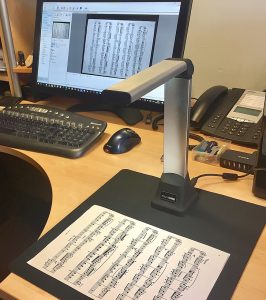 Article Updated February 2018
Recently Cambron launched a new USB portable document scanner called the MusicOne scanner. This short article (based on a previous blog post) gives users of this and similar scanners some hints and tips on getting the best results in Power Music.
Camera technology has come on leaps and bounds over the last few years and the results you can achieve from this scanner are quite amazing. The MusicOne scanner can be used with the built-in software in Power Music Professional or simply as a stand-alone scanner using either the free software that comes with the scanner or the supplied TWAIN driver along with your favourite image editing software. I will cover all this in the blog.
Using with Power Music Professional.
Power Music Professional has all the software you need to scan in paper music, built-in to the program.  Have a look at the video for an overview.
Tools in Power Music Professional:
Live Preview
Scan (capture)
Rotate
Crop
Adjust Brightness and Contrast
Deskew
Do/Undo
Redo Scan and Add (macro feature)
Resolution, colour depth and file size – these 3 things are intrinsically linked:
The higher the resolution the larger the file size. When displaying music onscreen, there is no advantage in using a resolution greater than about 150dpi. Most screens have a resolution lower than this. So don't be tempted to scan in your music at 1200dpi thinking it will display at a better quality. All you will do is create large files making the page turning slower and waste space.
The higher the colours depth (gray scale v full colour) the larger the file size. Also colour is not normally needed when scanning music – grayscale scanning is perfectly adequate. Unless you have made annotations on the paper music using coloured pens and you want to keep these always scan in grayscale.
Having a grey background in your music increases the file size. If you alter the brightness and contrast of the scan to make the background white you create a much smaller file size. With a grey background this image (left) was 1.7MB and by adjusting the brightness and contrast the image size was reduced to  266KB (right). It's all to do with the compression method used for storing the images of the music!

The file size matters for 2 reasons:
If you have a very large file representing a page of music – over 1MB per page, then the time it takes to load the page, when page turning, gets longer.
You are taking up more space on the hard drive of the PC.
Lighting:
This can be an issue when using flatbed scanners. If you scan a book which is not flat in a flatbed scanner you get this happening: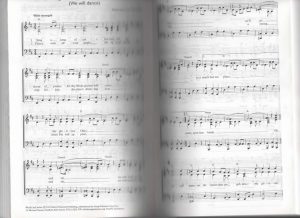 Whereas using the MusicOne scanner the shadow is less of an issue: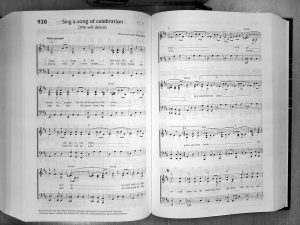 Scanning larger documents
When the scanner is sitting on the desk the size of the area that is captured is slightly larger than A4. If you want to scan larger books or documents simply raise the scanner off the desk. By putting the scanner on something about 4 inches high (a pile of books!) you can increase the scanning area to A3 and it will still be in perfect focus. Conversely if you want to scan smaller objects just raise them!
Here's an example of raising the scanner: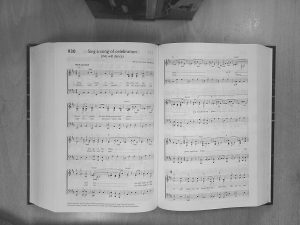 (Note: I have deliberately lowered the quality of some of the images in this post as they are copyright material.)
Other Scanning software
On the Power Music Hardware Store website you can download some extra free scanning software. Go to store.powermusicsoftware.com/cambron-easy-capture/
TWAIN Driver This allows you to use the MusicOne scanner with other image editing software for example Irfanview, Serif Photo+, Draw+, Photoshop etc…
Cambron Scan and Display A lightweight image capture, edit and display Windows app. Ideal for straightforward capture of documents, photos, business cards. It also has a feature to produce a full screen, live display from the scanner on the monitor of the PC. If the PC is connected to an LCD projector it can be used for example in a classroom for demonstrating.
CamShop This is a Windows app which does all the usual things you would expect from a scanner utility program, including quite good OCR. It is supplied by the manufacturer of the scanner.
So that's the new MusicOne scanner. As I said before the quality of the images produced by this scanner is very good and the speed of capture of less than a second makes scanning books of music easy and fast. For more info on the scanner or to purchase one, visit the Power Music Hardware Store
UPDATE: Cambron Easy Capture
In February 2018 we created a new application for Windows PCs – Cambron EasyCapture.
We wanted to create the easiest and quickest way to scan music or other documents, so we have written the brand new Cambron EasyCapture software for Windows.
• Preview and capture a page in less than a second!
• Manipulate by rotate, crop, deskew, adjust brightness/contrast
• "Capture, redo and add" performs a series of operations automatically
• Save an image as JPG, PNG, BMP, JP2, GIF or single page PDF
• Create and reorganise multi-page PDFs
• Clear and user-friendly user interface
• AND IT'S FREE with the MusicOne scanner
Simply plug the scanner into a PC, launch Cambron EasyCapture and start "Going Digital" with your music library.
Are you an iPad user? Whether you use Power Music, OnSong, forScore or any PDF viewer, this is the quickest way to scan your music! Just upload the PDFs to DropBox (or similar) and import into your iPad app. Of course if you are a Power Music Professional user then the MusicOne scanner software is built-in to Power Music.