Importing Your Music – ChordPro and MusicPad Files
Pianist? Organist? Guitarist? Band Leader? Worship Musician?
Where do you get your digital music?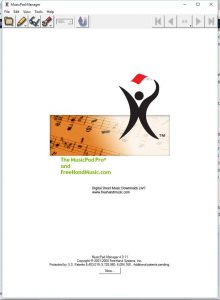 With Power Music your options are:
– Import PDF files – music scores or chord sheets
– Scan your paper music
– Type or copy and paste chord sheets
– Download songbooks from Power Music Store
– Import from ChordPro or MusicPad files
In this post I want to have a look at two particular sources of digital music:
– ChordPro files including OnSong files
– MusicPad .fh (FreeHand) files
UPDATE: Power Music App for iPad now imports ChordPro (OnSong) files.
ChordPro Files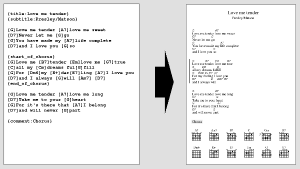 ChordPro files are a way of representing chord sheets which are freely available from many websites.  It's been around for a while being first proposed in 1992.  The OnSong app and several other iPad apps use the ChordPro file format.
ChordPro are basically text files with TAGS used to indicate chords and other metadata. File extensions for these files include: .chordpro, .onsong, .chopro, .cho, .crd, .pro or just a .txt file.
If you want more details about the ChordPro file format have a look here: https://www.chordpro.org/chordpro/index.html
The good news is that if you have a large library of ChordPro files then Power Music Professional and the Power Music App for iPad will directly import ChordPro (and OnSong) files. If you need to, you can save ChordPro files from iPad or Android tablets to DropBox to get them into your PC or iPad.
MusicPad .fh Files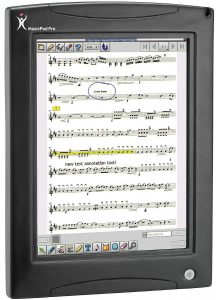 The MusicPad Pro was a hardware device from Freehand, which was quite a bit ahead of its time.  It was launched in about 2006 and cost $899. It could display sheet music scores on a 12 inch colour LCD touch screen with a resolution of 1024 x 768. Its downfall was that it was built using proprietary hardware and software. Remember the iPad was not launched until 2010! Although there were Windows tablets around at this time Freehand obviously thought that Windows XP was not a suitable platform to use for music display! (Power Music was launched in 2007 for Windows.) The fact that MusicPad was a closed architecture made it difficult to keep up with computing developments – both hardware and software and ultimately it ceased production a few years ago.
MusicPad files have the file extension .fh.  There are two type of these .fh files.
"Native" Freehand files
These were also called Solaris files. They were a way of representing a music score which could be transposed and played like a MIDI file. They were only available for sale from the MusicPad music store website. They could only be displayed on the MusicPad Pro and it was another proprietary standard. Today the equivalent would be MusicXML (an open standard) which is used by a number of apps, but sourcing music in MusicXML format is not easy.
"Bitmap" Freehand files
These contained the music score as images, which were not transposable and could not be played as audio. They appeared to be based on multi-page TIFF graphic files although again it was a proprietary standard.
So if you have a collection of .fh files and you want to use them in Power Music Professional how can you import them?
MusicPad Manager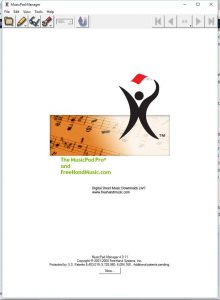 What you need to use is the MusicPad Manager program running on a Windows PC. This program was supplied along with the MusicPad Pro on a CD although it might be available for download somewhere. This program lets you manage your .fh files on the PC and then upload them to the MusicPad Pro device. However, one of the features in the Manager is the ability to print the music. This is the best way to export .fh file to then import into Power Music. But rather than printing onto paper and then having to scan them back into Power Music you can use a very clever little piece of software called a "PDF Printer". What this does is convert anything you can print into a multi-page PDF file. In effect you are "printing to a PDF file".
PDF Printers
In Windows 10 there is a built in PDF printer from Microsoft called "Microsoft print to PDF". It appears in the list of available printers in the print dialogue box.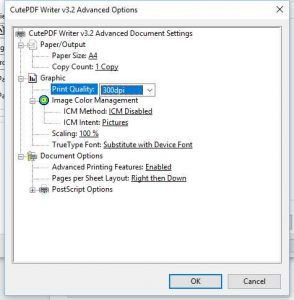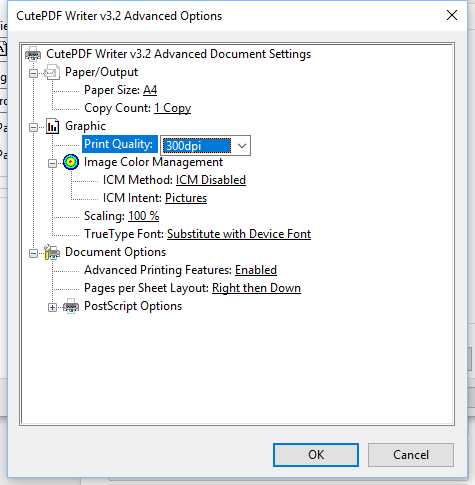 However I have discovered a more powerful PDF printer and its FREE! It come from Acro Software Inc. and is called "CutePDF Writer". Just download it from their website and install it.It will appear in the list of printers as "CutePDF Writer".
The reason I like this better than the Microsoft one is the Advanced options it gives you. You get to them by clicking Printer Properties and then Advanced Settings.
Important: If you are printing .fh files (either native or bitmap) from the MusicPad Manager you should always select 300dpi resolution, not the default 600dpi. Otherwise the music will not fill the page and you will need to do a lot of cropping when you import it into Power Music.
So basically all you do is load up the .fh file into MusicPad Manager, Print to PDF (at 300dpi) then import into Power Music.
Of course this method is not limited to .fh files. Any music you can display on screen can be printed to PDF using CutePDF Writer.
Note: Ensuring compliance with copyright law is your responsibility.