"Praise in the Park" – with no paper!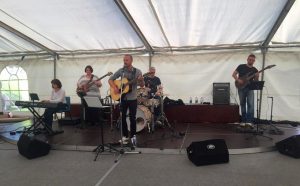 Every year the churches in our town enjoy "Praise in the Park" at the end of a mission week held by the JAM (Jesus and Me) Club in East Kilbride.
Here's how Power Music made the event so much less stressful for the worship musicians leading the praise.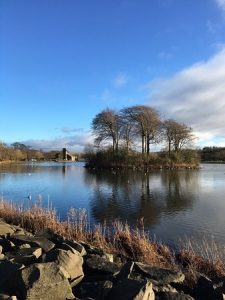 The event is held in the beautiful James Hamilton Heritage Park in East Kilbride.
During the week a large marquee tent is used for the children's activities (they need a tent because it is Scotland!) and on the Sunday we have an evening worship service.
My job was to organise the "techie" side of things – PA, words projection etc. The PA was surprisingly easy to get setup and initially I said to Brenda, who was organising the music, "Do you just want to use paper?". "Definitely not…" was the response.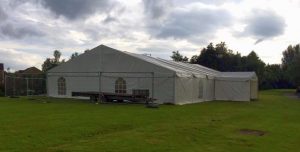 We use Power Music in the church but that is a permanent setup which I did not want to dismantle and move to the tent. So I looked around to see what hardware I could get my hands on. A 10 inch and a 12 inch Linx Windows tablet, a Lenovo convertible laptop and an iPad came to hand. Fortunately I also had stands for them and a laptop stand for the Lenovo, which doubled as a lectern for the speaker.
We used ZionWorx to project the words, which is a very easy program to setup and use. In fact the girl who was operating the PC with ZionWorx had never used it before and she used it without a hitch on the evening – a testimony to the ease of use of ZionWorx!
Brenda put the songs into the Lenovo laptop – we were doing a couple of new songs and then created a playlist. She uploaded both the playlist and songs to the church's Power Music Box account and then downloaded them to the other tablets and iPad – "easy peasy".
The batteries in the devices all lasted for the practice and service with plenty to spare – about 3 hours in total.
Page turning was accomplished using two BiLiPro USB page turners and PageFlip Firefly and Dragonfly Bluetooth pedals. Unfortunately the BiLiPro pedals are no longer available as the manufacture of them has ceased – a pity as they are very robust pedals.
The evening went very well with no hitches and the breakdown time was really quick.

So the moral of this story is that if you are doing an event not in your local venue it really is very easy to set up and use Power Music – No more paper!