Microsoft are at it again! Another major update to Window 10.
Over the (short) life of Windows 10 we have seen these versions: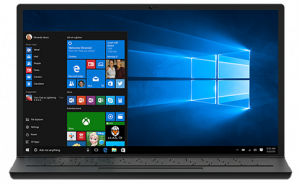 The original 1507 (July 2015)
1511 (November 2015) AKA "November Update"
1607 (August 2016) AKA "Anniversary Update"
1703 (April 2017) AKA "Creators Update"
And of course there has been a myriad of other minor updates and hotfixes in between.
I would be the first to advise anyone to keep their Windows PC up-to date, so here are my observations on the latest "Creators Update".
First impressions
The first thing I would say is that you are probably blissfully ignorant about this latest update. Microsoft don't seem to be in much of a hurry rolling it out to users. I personally have not received notification of the update on any of the PCs we use here in the Cambron office. However if you don't want to wait for Microsoft to offer you the update, you can go directly to the Microsoft Download page and install it manually.
The URL of the Creators Update Download page is:
https://www.microsoft.com/software-download/windows10
If you want to see the Microsoft Creators Update features page it is here:
https://www.microsoft.com/windows/features
So if you have had a look at the features page you may well be thinking "so what?" There doesn't appear to be many major changes to the way Windows 10 works and that is what I have found as well. You get new versions of Paint and the Edge browser, there is the ability to change the screen colours for Night Light use (reduces blue light)  as well as Start Menu folders to organise your Apps in the Start menu. Microsoft also assure us that there are significant security updates in the background which is no bad thing these days!
After installing the update on an ASUS all-in-one PC and the Linx tablet I had the feeling that the touch interface was slightly slicker – but nothing I could definitely put my finger on (no pun intended!)
Here's my Hints and Tips for the Creators Update
Backup
Before doing any major update to your PC it is always a good idea to backup your data. In Power Music Professional go to File/Backup and make a backup onto a flash drive or external hard drive.
Doing the Update
Set aside enough time – don't start doing the update on the afternoon before you are performing at a concert that evening! The download and installation of the update went very smoothly for me – it took a couple of hours to complete (on a fairly low spec all-in-one PC and a Linx tablet).
Windows 32 bit Issue
This next bit ONLY applies if you are running 32 bit Windows 10 (NOT 64 bit)
To check your Windows type got to Start menu/Settings/System/About and look at the "System type".
If you are running Power Music Professional on 32 bit Windows 10, after doing the Creators Update you will need to activate Power Music again.  You will not lose any songs or other data but you will be asked to re-register when you run Power Music after the install of the update. You should check that you have an available activation by going to "Manage my Product Key" on the Power Music web site. Please contact Cambron via our help desk to request a deactivation at support@cambronsoftware.co.uk If you want to know more about how Product Keys work read the blog: How to Manage my Product Key
Recovering Hard Disk Space
After doing the update you should do a hard disk cleanup to recover space used. This is especially important on tablet PCs which tend to have relatively small 32 GB SSDs.
If you are not going to revert back to your previous operating system these files can safely be removed to free up space on the hard drive.
In Windows Explorer go to "This PC"
Right click on the Windows hard drive
Click on "Disk Clean-up" and wait for it to check for files.
Click on "Clean-up System Files" and wait for it to check for files.
Tick the boxes for old Windows installation files.
Click OK and wait for it to recover up to 12GB of space!
Check Settings
After the update check your Settings for "blanking the screen" and "going to sleep". You find these in Start menu/Settings/System/Power and sleep. Also if you have changed "active hours" check that as well.
If you want more details on Windows Settings when running Power Music have a look at my previous blog: Hints and Tips for Performing Musicians
Summary
So to sum up this update, it is hard to say it is a "must-do" update but if it improves the security of your PC then go for it. I believe Microsoft have a "Fall Update" (that's Autumn for those of us on the right side of the Atlantic), in the pipeline, so we will be going through this again in a few months! Microsoft used to release Service Packs for their operating systems in the past, these new major updates seem to be the replacements for them. I still believe that Windows 10 is a good OS and I have found it to be very stable – as long as you keep doing these updates!!
If you have any comments on this or other blogs please feel free to post them – bye for now!
UPDATE 30/5/2017: Since writing this blog two of the PCs in the office, a desktop and a laptop, have been offered the Creators Update and have installed it with no issues. However when I installed the update manually on an Intel Compute Stick with 32bit Windows 10 it "lost" WiFi so I had to reinstall the WiFi driver after the update – via a USB stick!.